Virgin Mary's 'Tears' Soaking Apartment Wall, Drawing Hundreds of Worshipers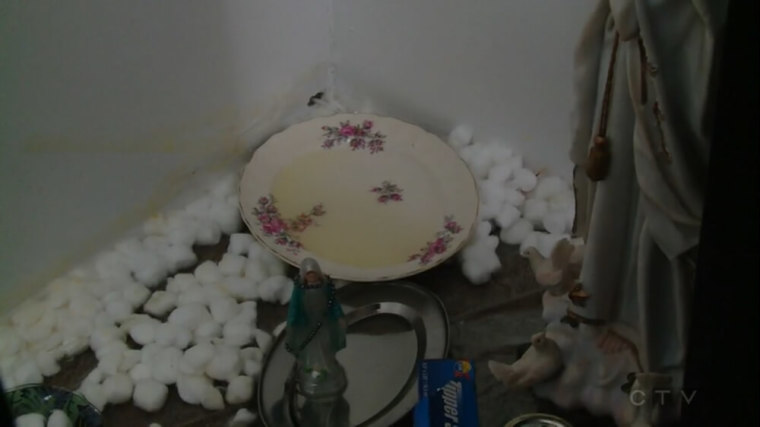 A Roman Catholic family in British Colombia believe the tears of the Virgin Mary are soaking one of their apartment walls in an alleged miracle, which has reportedly drawn over 300 worshipers to come to the apartment and pray.
CTV News Vancouver reported on Saturday that hundreds of people from across Canada are coming to the oil-soaked apartment wall in Surrey, where devout Catholic Sanna Lona claims she experienced a miracle.
Lona said three weeks ago she was alone in her bedroom when she felt someone touch her shoulder, after which she saw the Virgin Mary, who told her to look at the wall.
The Catholic woman claimed that a streak of oil formed on the wall, but eventually it spread across the room, reaching the carpet and the mirror.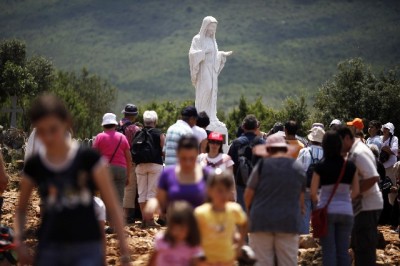 Lona's son, Salwan Alyais, claims that Mary also gave his mother instructions about the oil, which the family believes is the tears of the mother of Christ.
"Mary said don't let anyone touch the wall because they're touching her face, and she doesn't want people to touch her face," Alyais said.
The bedroom, which is now filled with images of Mary, is being kept open for people who want to come and pray.
"[My mother] feels okay and happy, and she says the Mary mother told her the people come, the door is open, she don't close, they will visit here and pray," Lona's daughter added.
There were several alleged Virgin Mary miracles reported around the world last year. In October, a church in Malaysia asked the Vatican to officially declare a miracle in the form of a statue of Mary that parishioners said has been documented at various times growing taller, smiling, and crying.
The alleged miracle was captured on video during service, with one parishioner describing: "Her eyes were moving very slowly, all of us were there and we saw it."
"The father (the priest) was saying, 'look at her, she's looking at us. She was full of life, she had a lot of tears in her eyes,'" he continued.
"When we started singing 'Ave Maria,' she started smiling and her lips were moving."
Another miracle was reported in September in Sicily, Italy, after a Catholic priest led church members to drink from a "secret" water spring that he believed Mary led him to.
"She doesn't speak to me or for me — but she speaks through me to everybody, inviting them to pray, confess and return to God," Father Alessandro Minutella from the parish of San Giovanni Bosco in Carini said at the time.