Filipino Priest Officiates First Mass Since Being Abducted by Islamic Terrorists in May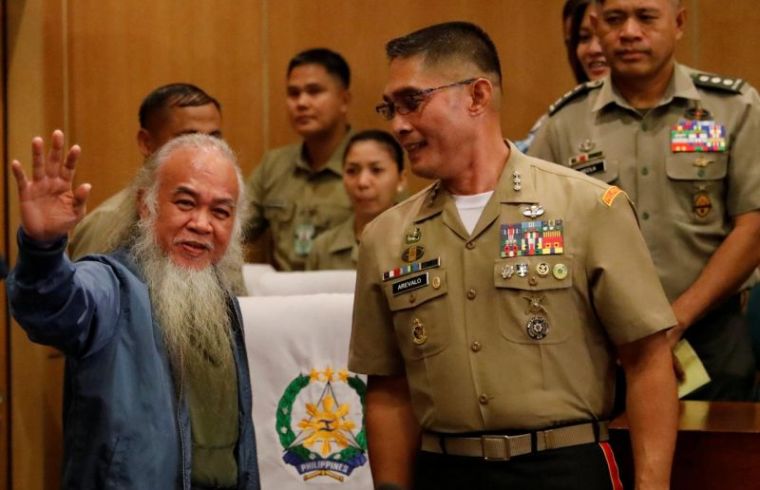 The Catholic priest who was abducted and held captive by Islamic State-aligned extremists for about four months in the Philippines officiated his first mass on Sunday since being rescued earlier this month.
Father Rey Teresito "Chito" Soganub, who was kidnapped along with over 200 other civilians by Islamic radicals when they besieged the city of Marawi in late May, officiated mass inside the Camp Aguinaldo military compound in Quezon City, according to the Manila Bulletin.
The newspaper reports that about 40 military personnel and civilians attended the mass.
"It was a great celebration of life for Father Chito whose personal safety was placed in danger because of the fierce gun battle that is happening in Marawi City," Army Col. Romeo Brawner, deputy commander of the Joint Task Force Ranao, was quoted as saying.
Brawner added that Soganub will be able to say mass once again at St. Mary's Cathedral in Marawi City once terrorists are finally pushed out of the city and the area is cleared of explosive devices.
It was on Sept. 16 that Filipino security forces rescued Soganub and another civilian during a battle to recapture a mosque and a command center used by the militants.
"According to Father Chito, the mass is also a thanksgiving for the lives of those who were rescued," Brawner stated.
According to Brawner, at least 1,730 people have been rescued by security forces since the conflict in Marawi City began on May 23. The Manila Bulletin reports that about 40 to 50 hostages are still believed to be detained by the Maute group, which has also been referred to as the Islamic State of Lanao.
As the population of Marawi City is predominantly Muslim, The Philippine Star reports that presidential spokesman Ernesto Abella was asked to comment on the link between the Islamic extremists and local politicians.
"Let's put it this way, I suppose there's a multiple streams of income coming in," Abella said. "Apparently, it's a circuitous loop. Government, drugs, terror groups. So in a sense, they're all part of this, apparently part of this loop ... Part of the local funding to buy equipment, food and stuff like [that] is provided by the sale of local drugs."
Rumors have circulated that Soganub had cracked under the pressure applied by the militants and converted to Islam while in the custody of the extremists.
Marawi City Bishop Edwin dela Peña told reporters at a press briefing last Tuesday that even if the rumors are true, a forced conversion can not be considered a real conversion and added that Soganub would remain a priest.
"You cannot consider that full conversion. There is no substance to it if you are under duress," the GMA News network quoted the bishop as arguing. "You cannot give your full consent. That is what religion is all about. Whatever it is, true or not, it doesn't hold any water for me."