First Listen: Bart Millard Shares Emotional Moment Dream Came True in Memoir, 'I Can Only Imagine'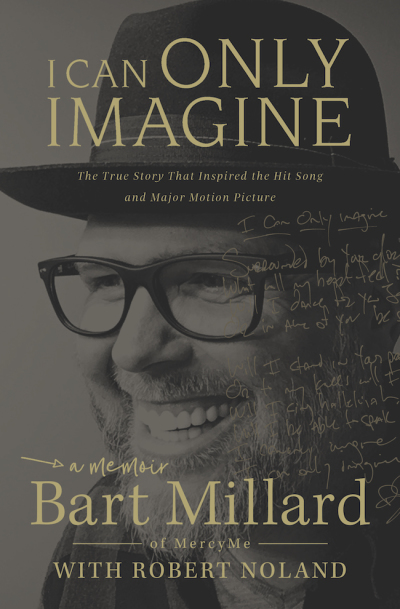 MercyMe frontman Bart Millard shared an emotional first listen of a pivotal moment in his life that he details in his forthcoming memoir, I Can Only Imagine.
Millard has faced many challenges in his lifetime — his parents splitting when he was a child, a debilitating and career-ending sports injury, abuse from his own father and many closed doors in the music industry. However, the resilient singer refused to let any of that break his spirit. He stuck to his faith and eventually used those experiences as inspiration to write the hit song "I Can Only Imagine," as the frontman of his Christian band, MercyMe.
The crossover hit "I Can Only Imagine" sold over 2 million digital downloads and was certified almost 3x platinum. Now, almost a decade later, Millard is telling the story behind the tune in the upcoming book, I Can Only Imagine: A Memoir.
The W Publishing/Thomas Nelson book will be released on Feb. 13 and in it, Millard recounts how he found a way through Jesus Christ to "healing and grace." His story offers a testimony that will encourage others who need reassurance in the face of the insurmountable.
"Millard's memoir takes readers behind the scenes of his life: his childhood tainted by shattered dreams and the abuse of his father, his father's transformation to a man of God, how God prepared Bart for a ministry through music and his life as a successful recording artist. Readers will be encouraged by the continual presence of God in Bart's life through all of the ups and downs, and inspired by how God's plans for Bart continue to surpass what he could ever dream," a statement shared with The Christian Post reveals.
"I pray you enjoy reading about the roller-coaster of my life," Millard says in the memior. "But more than anything, I pray that through this book, you will come to know, or know more intimately, the God who offers us a life that is more than we could ever ask for or imagine."
As well as the book, Millard's life story will be showcased in the upcoming Lionsgate and Roadside Attractions film, "I Can Only Imagine." The Erwin Brothers and Lionsgate announced the official release date for March 16.
According to the movie's summary, "I Can Only Imagine" is the "true story that follows the life of Bart Millard, lead singer of the Christian band MercyMe, who loses his father to cancer and inspires him to write the mega-hit song, 'I Can Only Imagine.' The story beautifully illustrates that nobody is ever too far from God's love — or too far from an eternal home in Heaven."
The film features an all-star cast, including Dennis Quaid ("The Day After Tomorrow," "The Rookie," "Soul Surfer"); Oscar winner Cloris Leachman ("The Iron Giant"); platinum-selling country music legend Trace Adkins; and author and actress Priscilla Shirer ("War Room"); and will introduce Broadway's J. Michael Finley ("Les Miserables").
For more information about "I Can Only Imagine," the book and movie, click here.