First Names and Character: How Godly Is Your Name?
'Duck Dynasty' Star Alan Robertson and Jim Bob Duggar of '19 Kids and Counting' Share Their Thoughts on Names, Character Identity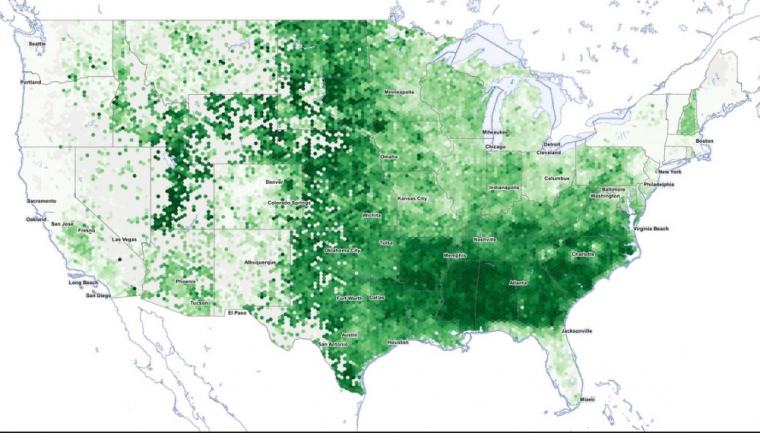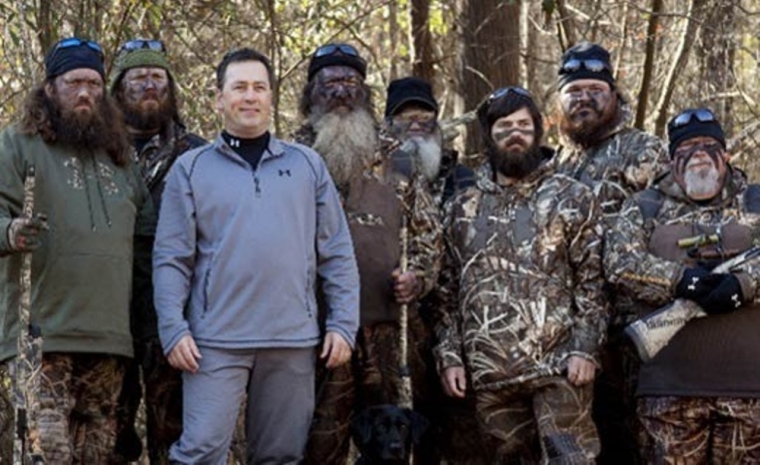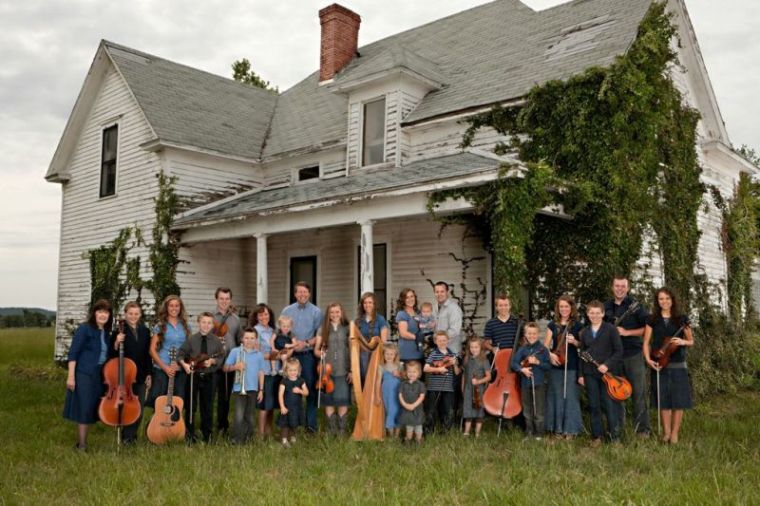 View Photos
A political strategy firm has developed a tool that can approximate how many people with a certain name are Republican or Democrat, and how many attend religious services weekly. Former pastor and "Duck Dynasty" star Alan Robertson and Jim Bob Duggar, the patriarch of the Duggar family on "19 Kids and Counting," agree that Christian parents should carefully consider what to name their children.

"The Bible and God give a lot of significance to names, especially in the Old Testament days," Alan Robertson told The Christian Post in a statement on Friday. Robertson explained that "names could signify life change – like Jacob (Deceiver) to Israel (Struggles with God) and also described attitudes and character."
Jim Bob Duggar, patriarch of TLC's reality TV show "19 Kids and Counting," agreed with the importance of names, and emphasized of other significant factors in raising children as well. "I think it is important for parents to prayerfully consider what they name their child, and for that name to express what they want their child to become," Duggar told CP in an interview on Friday.
Name patterns
The name results draw attention to the "gender gap" not just in politics, but also in religion. A majority of female names lean Democrat and rank lower in church attendance.
Mary, for instance, which is the seventh most common name in the database, shows that 54.7 percent are Democrats, and 36.1 percent attend religious services weekly. Jennifer, which is the 12th most common name, has 53.1 percent Democrat affiliation, and only 35.1 percent go to church every week.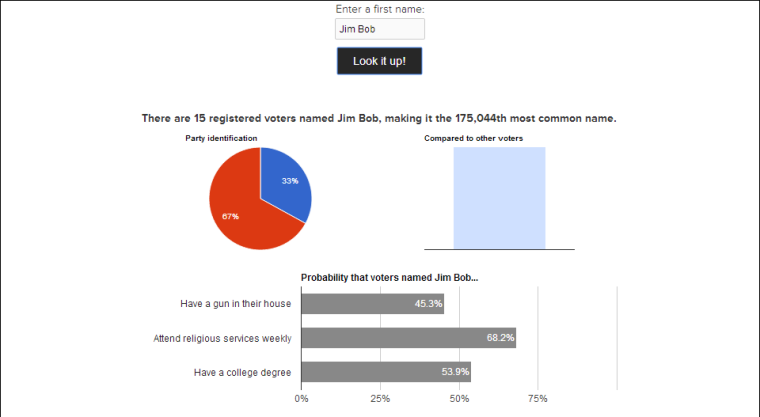 Low church attendance persists among women, even with biblical names like Ruth (32.8 percent), Abigail (33 percent), and Sarah (34.9 percent). Even Faith (34.4 percent), Hope (35.3 percent), and Charity (39.0 percent) have low scores. A basic search through the database found the highest score with the name Bonnie (41.8 percent) and the lowest with Latifa (16.5 percent).
Male names tended to correlate with higher church attendance. Michael, the most common name, ranked 51.4 percent Republican, and 51.7 percent reported weekly church attendance. John and James, the second and third most common names, are similar (53.3 percent, 52.9 percent Republican; and 51.9 percent, 54.8 percent weekly church attendance, respectively).
Biblical names like Peter (45.7 percent), Joshua (52.8 percent) and Jonathan (48.9 percent) did not correlate with higher church attendance than non-biblical names such as, Darryl (47.8 percent), Hank (56.1 percent) and Tyler (55.6 percent).
Jim Bob ranked first among men for church attendance (68.2 percent).
Famous names
Perhaps not surprisingly, Americans named Barack are 76.5 percent more likely to be Democrat, and only 42 percent of them attend religious services weekly. Those named George – like George W. Bush – are nearly evenly split, 50.2 percent favoring Democrats and 49.8 percent Republicans, but 50.7 percent of them attend church weekly. The two most recent First Ladys' names both lean Democrat (Michelle at 55.7 percent, Laura 53.7), and less religious (Michelle 35 percent, Laura 35.6).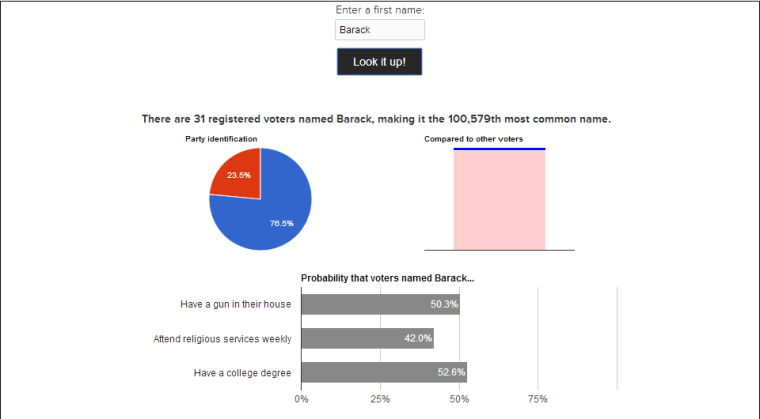 Those named Silas, like "Duck Dynasty's" Si Robertson, are more likely to go to church every week (53.6 percent). Justin, as in Bieber, also has a high church attendance – 52.9 percent. The Pope's name, Francis, however, fares less well at 46.3 percent, perhaps because he shares the name with Frank Underwood, the main character on "House of Cards."
Surprisingly, Judas ranked fairly high on church attendance, at 47.8 percent. Delilah came in at 34.6, Salome at 28.5, and Herodias tied for least religious at 16.5.
Methodology
David Radloff, spokesman for Clarity Campaign Labs, the progressive research firm behind the study, explained the methodology behind it. Radloff noted that the numbers are "probability scores built using a variety of polling data (online, live phone and automated)."
Radloff also emphasized the imperfection of the numbers. "We don't know the party registration or specific data on church attendance for every single voter in the country," since many states do not have party registration and lists do not count everyone who goes to church.
"The religious attendance score is built to simply predict frequency of attendance, not intensity of belief or any other factor," he said.
Clarity Campaign Labs released the program on Tuesday, and Radloff announced more features "in the not too distant future."
While the group focuses on analytics consulting directly for democratic and progressive clients, it recently broke into side projects.
Radloff also commented on the gender gap in the results – "Women in general vote at a higher rate for Democrats than men do." He added that women's names are more unique than men's names, which might account for a variance on their numbers.
Jezebel
Both Jim Bob Duggar and Alan Robertson mentioned "Jezebel" as a poor name choice for a child. "If somebody named their child Jezebel, they might have a tendency to feel rejection like they're an outcast," Duggar told CP. He suggested that these feelings would follow from the fact that Jezebel is "the name of somebody who had a lot of issues in the Bible."
Duggar then contrasted Jezebel with the name Joseph.
"If their name is Joseph, I think the vision is cast for them to resist temptations and live for God and do great things," the "19 Kids and Counting" star said.
Robertson also emphasized that the choices a person makes in life and their character is more important than their name. Nevertheless, he added, "that being said, I didn't name either of my daughters Jezebel!"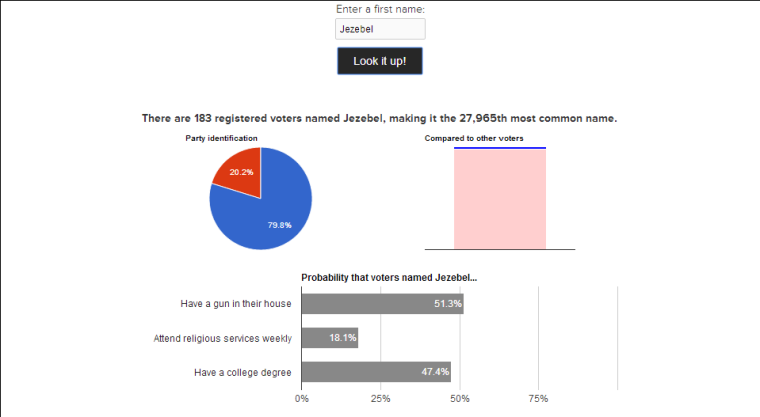 While the name Jezebel lives up to its reputation – only 18.1 percent of them attend church weekly – it still outperforms the names tied for last: Latifa and Herodias at 16.5 percent, proceeded by Goldy at 17.3 percent.
Does your name determine your character?
Despite the percentages, both Duggar and Robertson agreed that a person's name does not determine their character.
"The most important thing is for parents to have heart talks with their children; to really encourage their children to walk with the Lord, to lead their children by example with their own life, and to have their children surrounded with people who have a heart for the Lord," Duggar told CP.
Duggar mentioned his daughters' forthcoming book, Growing Up Duggar: It's All About Relationships, as a good perspective for parents wishing to raise their children in a faith-friendly environment.
"What they stress is their relationship with God, their relationship with their parents, their relationship with their siblings, their friends, boys, and other people outside of our family and friends," he explained.
Robertson, who emphasized the importance of looking at a person's character over the power of their name, also suggested that a child could find strength and encouragement in a biblical name.
"I would think that a good, strong name, especially a biblical name, could encourage strength in a person. But ultimately, I feel the choices and character of a person matter most, no matter what their name is," Robertson shared with CP.