First Photo of Noah's Ark From Darren Aronofsky Movie Released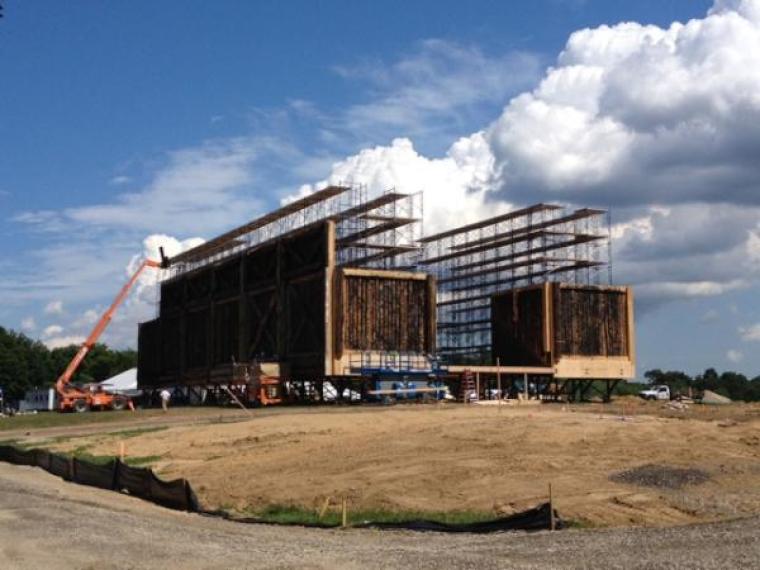 A photo of the massive life-sized ark being constructed for filmmaker Darren Aronofsky's Bible epic "Noah" has been released, and has movie-goers enthusiastic about the prospects of the ambitious film.
"I dreamt about this since I was 13. And now it's a reality. Genesis 6:14," Aronofsky wrote along with the photo on his Twitter page Wednesday.
Genesis 6:14 (NIV) reads: "So make yourself an ark of cypress wood; make rooms in it and coat it with pitch inside and out."
The film, titled "Noah," which is currently in pre-production status and scheduled for a Spring 2014 release, already has a notable cast. Russell Crowe is set to play the title character of Noah, and other cast members include Emma Watson, Jennifer Connely, Logan Lerman and Ray Winstone. New Regency Productions and Paramount Pictures will produce and distribute the film.
Aronofsky also revealed this week that Sir Athony Hopkins had been added to the cast, hinting at his role with the hashtag "#methuselahlives." If the hashtag turns out to be true, Hopkins will be taking on the role of Noah's grandfather, whom the Bible identifies as Methuselah.
"Since I was a kid, I have been moved and inspired by the story of Noah and his family's journey," Aronfosky has said about his long-term dreams to write and direct the biblical epic. "The imaginations of countless generations have sparked to this epic story of faith. It's my hope that I can present a window into Noah's passion and perseverance for the silver screen."
Aronofsky, who has also directed "The Fountain" and the Academy Award-nominated films "The Wrestler" and "Black Swan," previously tried to recruit Christian Bale and Michael Fassbender to play Noah, but after conflicting schedules eventually settled for Russell Crowe.
"I think it's really timely because it's about environmental apocalypse which is the biggest theme, for me, right now for what's going on on this planet. So I think it's got these big, big themes that connect with us. Noah was the first environmentalist. He's a really interesting character," Aronofsky said, explaining the relevancy of the film and Noah's story in this day and age.
"That's incredible, Darren. Can't wait for the finished product. ‪#NOAH‬ will be poetic, I am sure," wrote Twitter user Rohan in responce to the picture.
"Set look incredible," added Derek Luke.
The image of Aronofsky's ark had been retweeted more than 900 times and saved as a favorite by nearly 350 Twitter users.