First Same Sex Marriage Ceremonies Performed in New Zealand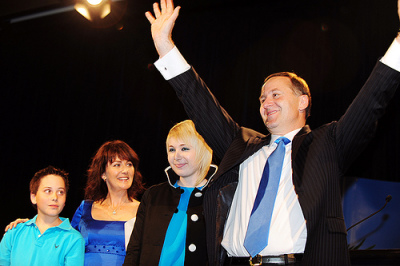 New Zealand's first same-sex marriage ceremonies were performed Monday, as dozens of gay couples married across the country. While the country legalized same-sex marriage in April of this year, Monday marked the opening of the government office responsible for its implementation.
According to the country's Department of Internal Affairs, close to 1,000 marriage applications were downloaded the week same-sex marriage applications were released.
While the bill passed with almost a two-thirds vote, New Zealand's Conservative Party and religious leaders have expressed little enthusiasm for the bill.
Conservative Party leader Colin Craig claimed that the bill had passed without Kiwi support.
"I think it's a sad day for us as a nation because we are seeing a legislative and cultural change that New Zealanders didn't support," Mr Craig told ONE News. "It's not the first time I've seen the Government make a decision against the wishes of the people, I think that's the most serious issue here," he said.
According to TVNZ News, the stance on the issue from New Zealand's Christian population is even more uneven. Anglicans, Presbyterians, Methodists and Baptists are split, while Roman Catholics uniformly oppose same-sex marriage.
Family First New Zealand, a lobby group supporting the traditional definition of marriage as being between only one man and one woman, insists that the definition of marriage will not change, despite politicans' views.
"Despite their grandiose view, the politicians never had the authority to redefine marriage - and their efforts only mask reality," said Bob McCoskrie, National Director of Family First told TVNZ.
"Social engineers including politicians and activists are expecting marriage supporters to drop their deeply held convictions because of the misguided decisions of politicians," McCroskrie said.
Many Australian homosexual couples also flew over to New Zealand to hold their own gay marriage ceremonies. Some reports even claimed that gay couples from Hong Kong, Russia and the United States traveled to New Zealand to hold same-sex marriage ceremonies.
Currently, same-sex marriage is not legal in Australia, though Prime Minister Kevin Rudd has said he will bring it to a vote next month.
For now, as the only Asian-Pacifican region to legalize gay marriage, New Zealand intends to market themselves as a wedding destination for same-sex couples.
"New Zealanders are incredibly tolerant of people with different lifestyles, so I'm very confident the industry will embrace this opportunity," Tourism New Zealand CEO Kevin Bowler told TV3.