'First World Problems Anthem' Goes Viral
"First World Problems Anthem" is the new video going viral as it presents a vast disparity between the poor in Haiti and the wealthy in the U.S.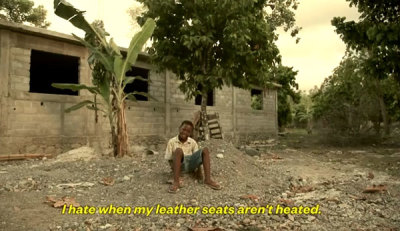 "I hate it when my house is so big, I need two wireless routers," says one Haitian man in the video as he stands in front of a small, run-down home.
"I hate when I tell them no pickles and they still give me pickles," a younger Haitian boy states.
Several other Haitians are featured reading #FirstWorldProblems tweets which for one London-based writer, Peter Adams, proved to be "a good, put-life-into-perspective slap across the face."
"#FirstWorldProblems are not problems," the video concludes.
The video has attracted nearly 800,000 views since its debut on Oct. 3. U.S. marketing firm DDB created the ad campaign in partnership with the charity WATERisLIFE, founded by Ken Surritte. According to the group, 6,500 people, most of them children, die every day because they lack clean water.
DDB New York chief creative officer Matt Eastwood told Business Insider that they knew the "first world problems" tweets Americans posted were meant to be tongue-in-cheek. But not all of the tweets are ironic, he told the publication.
DDB New York is attempting to eliminate the #FirstWorldProblems hashtag on Twitter. "Though meant in jest, these tweets about 'problems' – such as having to get up to change the TV channel or a phone charger that won't reach your bed – also reveal a lack of sensitivity or awareness about serious social and health concerns and the ways that social media users can help," the company stated.
"The effort is designed to raise awareness of the plight of those less fortunate and put our privileged lives into perspective, with the ultimate dual goal of ending #FirstWorldProblems altogether and raising money to fight world thirst. Currently, there are approximately five #FirstWorldProblems tweets per second."
Urban dictionary defines First World Problems as "Problems from living in a wealthy, industrialized nation that third worlders would probably roll their eyes at."
The feedback on YouTube has been mixed, but mostly positive, with many feeling both guilty and inspired.
First World Problems Anthem (Not Really Problems)