Fish Turning Transgender Due to Contraceptive Pills, Chemicals From Household Drains, Study Says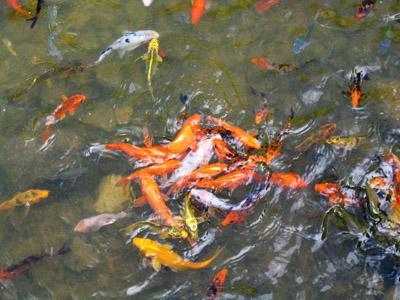 A study by a university in the U.K. has found that contraceptive pills, cleaning products and other household items flushed down household drains are turning male fish transgender.
Male river fish are displaying feminized traits and even producing eggs, the study led by Professor Charles Tyler of the University of Exeter found, according to The Telegraph. Some fish have reduced sperm quality and display less aggressive and competitive behaviour, making them less likely to breed.
The tests involved in the study showed that as much as 20 percent of freshwater fish at 50 different sites in the U.K. had higher feminine characteristics.
The chemicals causing these effects include contraceptive pill, cleaning agents, plastics and cosmetics. Over 200 chemicals from sewage plants have been found to have estrogen-like effects, according to the study.
"We are showing that some of these chemicals can have much wider health effects on fish that we expected," Tyler was quoted as saying. "Using specially created transgenic fish that allow us to see responses to these chemicals in the bodies of fish in real time, for example, we have shown that oestrogens found in some plastics affect the valves in the heart."
He added, "Other research has shown that many other chemicals that are discharged through sewage treatment works can affect fish, including antidepressant drugs that reduce the natural shyness of some fish species, including the way they react to predators."
The study has found that the offspring and grandchildren of affected fish are likely to be more sensitized to those chemicals.
Tyler presented his findings in the opening lecture of the 50th Anniversary Symposium of the Fisheries Society in the British Isles at Exeter University, which began Monday.
On the university's website, Professor Tyler says a major focus of his research interest is "endocrine disruption, the study of chemicals that alter hormone function which can lead to adverse impacts on health."
"Our work with colleagues at Brunel University was some of the very first research to show that effluents from wastewater treatment works causes feminisation of male fish," he notes. "My teams work has subsequently proven that feminization of wild roach living in U.K. rivers is caused by exposure to treated sewage effluents. Using a targeted biological screening of chemically fractionated bile from effluent exposed fish, with collaborators (University of Sussex), we have been able to identify the suite of feminising chemicals in effluent discharges, principally environmental oestrogens, and through laboratory exposures proven they contribute to the feminisation of wild fish in U.K. rivers."
In 2010, the Washington, D.C.-based Potomac Conservancy said more research needs to be done in this area, as it found that over 80 percent of male bass fish in the Potomoc River displayed female traits.