Florida Church Falls Victim to Hate Crime After Vandals Set Fire, Spray-Paint Swastikas and 'Allahu Akbar' on Walls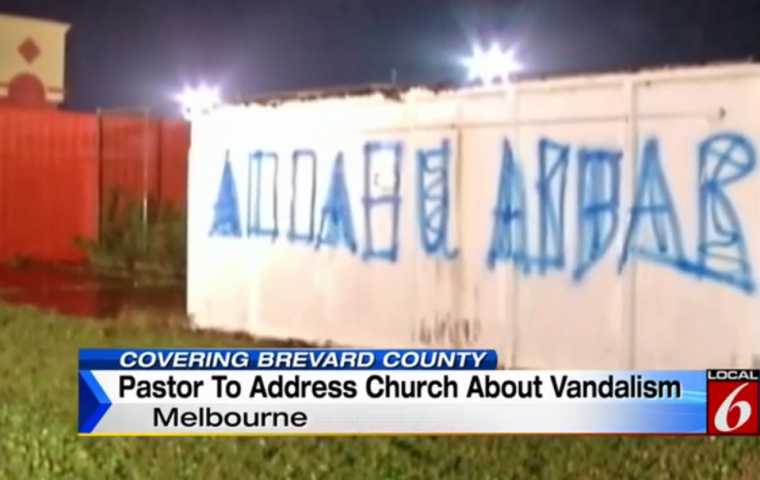 A Florida church was the possible victim of a hate crime this week after vandals set fire to the building and spray painted swastikas and the Islamic phrase "Allahu Akbar" along its walls.
New Shiloh Christian Church of Melbourne, a rapidly growing church founded in 1997, was vandalized sometime early Monday morning.
Bishop Jacquelyn Gordon, founder and senior pastor at New Shiloh Christian Church, told The Christian Post that she first learned of the vandalism when police called her at 3 a.m.
"I feel that it was a senseless crime of hate due to the fact that there were swastika signs spray painted on the walls and the severe damage from the fire," Gordon said. "It's sad that a person or people would set a church on fire of all places. It's a scary feeling that people still display this kind of hatred! But as I have stated, 'God is love' and we still love and forgive them."
Gordon told CP that the church has never been the victim of vandalism in the past, and trusts that law enforcement will do what they can to catch the perpetrators. "Police are doing their own investigation into this matter and the FBI have been contacted."
A fast growing congregation, in 2012 New Shiloh purchased a 125,000-square foot facility placed on a 17 acre piece of land.
It was at this recently acquired facility that an unknown party set fire to and then spray painted swastikas and the Arabic phrase "Allahu Akbar," which translates to "God is great."
"Melbourne police said officers and firefighters discovered the blaze after a fire alarm sounded. Arson was the expected cause," reported Local 6 of Orlando. "Fire sprinklers helped contain the flames to a storage unit connected to the 125,000-square-foot building."
With damages estimated at $5,000, Melbourne police have told local media that they have not definitively concluded that it was a hate crime.
"I would just say that everything is being looked at," said Lt. Cheryl Trainer, whose department has also considered it a possible product of juvenile delinquency. "All avenues are going to be explored. If it meets that criteria [of a hate crime], that would be something that would be looked at."
As police continue to investigate, church staff posted a statement on their Facebook page to express their gratitude to those who've offered the Gordons and the church support following the vandalism.
"Although distractions come, we will continue to stay on course! Several news stations will be in our 7 p.m. worship service tonight' we are asking everyone that can, please be in attendance tonight to show our support to our great leader," read the Facebook post. "Please continue to pray for peace not only for New Shiloh but for this country, hate is not the answer …"