Florida restricts sexuality, gender identity discussions through 12th grade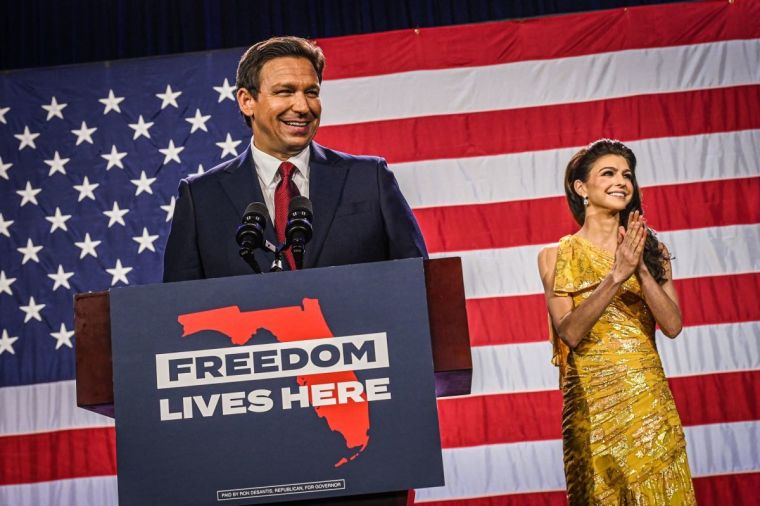 After approximately an hour of public comments expressing both opposition and support for the rule, the Florida Board of Education voted to approve an amendment to the "Principles of Professional Conduct for the Education Profession in Florida" at a meeting Wednesday.
The revised law amends the existing requirement that teachers refrain from discussing sexual orientation or gender identity with students in kindergarten through third grade to add that teachers "shall not intentionally provide classroom instruction to students in grades 4 through 12 on sexual orientation or gender identity unless such instruction is either expressly required by state academic standards" or "is part of a reproductive health course or health lesson for which a student's parent has the option to have his or her student not attend."
The expansion comes a year after Florida's Republican Gov. Ron DeSantis signed into law House Bill 1557 on "Parental Rights in Education." The law has generated much scrutiny from Democrats who call the legislation the "Don't Say Gay Bill." DeSantis has accused opponents and the mainstream media of promoting "false" narratives about the bill. 
The law also requires school districts to inform parents of changes in their child's mental, physical and emotional health. It forbids districts from withholding that information —such as whether students are identified by different name and gender in school — from parents.
The law's expansion has swift praise from parental rights organizations and scrutiny from LGBT advocacy groups. 
Kelley Robinson, president of the LGBT advocacy group Human Rights Campaign, claims it is a direct attack on the LGBT community.
"There's nothing wrong with talking about LGBTQ+ people, history, and culture in our classrooms," she said in a statement. 
"Our community poses no threat. The real threat to Floridians is Gov. Ron DeSantis and extremist legislators who are some of the most anti-LGBTQ+ politicians in America. DeSantis and his allies show no shame in their government overreach and unrelenting desire to attack the freedoms of those different from them. The Human Rights Campaign strongly condemns this form of dangerous, extremist politics."
Ryan Kennedy of the advocacy group Florida Citizens Alliance praised the expanded restrictions before the board Wednesday.
"We believe that the focus in education should always be teaching the basics, math, science, history, etc. in the classroom and especially when it comes to issues such as sexual orientation and gender identity, these decisions should be left at home for the parents to decide when and if their child should be exposed to this material," Kennedy said. 
Concerns about exposure to sexually explicit material and LGBT ideology have become a significant source of contention for many parents in Florida and the United States.
Even after the passage of House Bill 1557, major school districts in Florida continued to embrace sex education curricula that discussed topics related to sexual orientation and gender identity.
Miami-Dade County, home to the largest school district in the state, pulled two newly approved sex education textbooks designed for middle and high school students following parental backlash.
One of the book's chapters, titled "Understanding Sexuality," discussed matters related to sexual orientation and gender identity.   
Similar pushback occurred from parents in Hillsborough County, home to Tampa, where more than 3,000 signed a petition objecting to sex education curriculum for middle schoolers that petitioners say includes "training for teachers to lead students into gender confusion." 
In recent years, there has been a surge in support for school board candidates opposed to what they say is LGBT and racially divisive ideologies. DeSantis endorsed 30 school board candidates in Florida in elections that took place last summer. Twenty-four of them either won their races outright or advanced to a runoff.
DeSantis' list of preferred candidates included more than two-thirds of the school board hopefuls the advocacy group 1776 Project PAC invested in. Describing its mission as "electing school board members nationwide who want to reform our public education system by promoting patriotism and pride in American history" and "abolishing critical race theory" from public school curriculum, the organization has achieved a high level of success in electing its preferred candidates in Florida.
In school board races last summer, the 1776 Project PAC saw both endorsed candidates in Miami-Dade County win their elections, making it the largest school district in the U.S. to have a "conservative school board majority."
Candidates endorsed by the 1776 Project PAC also won seats in Duval County, home to Jacksonville, Hillsborough County, Bay County, Brevard County, Flagler County, Hernando County, Indian River County, Okaloosa County, Putnam County and Sarasota County.
Additional Florida counties that saw their school board's composition flip from majority liberal to majority conservative last summer included Clay County and Martin County. Overall, 25 of the 49 candidates for last summer's Florida school board races that the 1776 Project PAC supported won their races outright.
In the November general election, 1776 Project PAC-endorsed candidates won school board races in Flagler County, Indian River County, Pinellas County and Volusia County, Florida. The group's victories in Florida constituted a small share of the more than 100 school board seats its preferred candidates won nationwide.
At the same time, the advocacy group Moms for Liberty, which has a mission similar to the 1776 Project PAC, saw its endorsed candidates win seats on school boards in Brevard County, Collier County, Lee County, Manatee County, Pasco County and Volusia County.