Focus on the Family Denounces John Oliver's 'Screed' Against Mike Pence's Daughter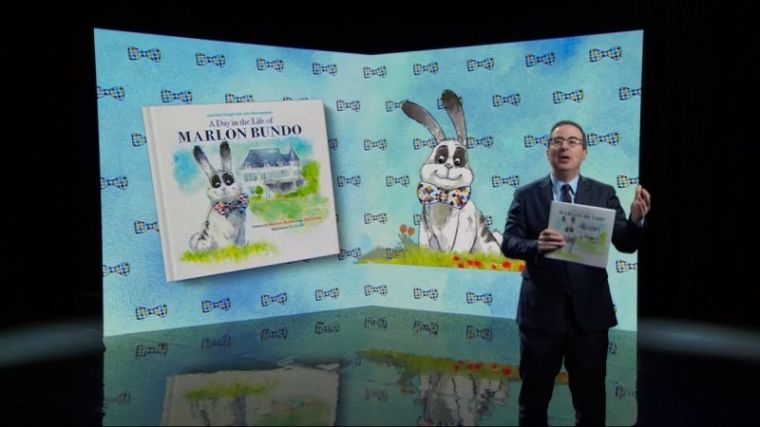 Conservative group Focus on the Family has hit back against comedian and late night host John Oliver over a children's book written by Vice President Mike Pence's daughter, calling his mocking of the effort "vicious, vulgar, and vile."
"Social media is abuzz today concerning HBO's John Oliver's Sunday night attack on Vice President Mike Pence and Focus on the Family. The 'satirical' late-night talk show host's screed was not just vicious in tone, but also vulgar and vile in every sense of the word and way," wrote Jim Daly, Focus on the Family's president, on Monday.
"Over the years, late-night television has devolved into a breeding ground for cynical, skeptical, bitter and so-called 'humor' that cuts people, attempting to both marginalize and tear down individuals and institutions with whom both hosts and often guests disagree," he added.
The controversy stems from a book released by Pence's daughter, Charlotte, titled Marlon Bundo's Day in the Life of the Vice President, with the title character being the family's beloved pet rabbit.
The children's book, which was illustrated by Pence's wife, Karen, is not political in nature, but was lampooned by Oliver on "Last Week Tonight" due to Pence's conservative stances on issues like abortion and gay marriage.
Focus on the Family, and the group's decision to have Pence speak at their past events, was criticized by Oliver over what the comedian says is conservative support for conversion therapy.  Focus on the Family has said that it offers support to LGBT people seeking to change their sexual orientation.
On Sunday night, the comedian released a spoof version of the children's book titled Last Week Tonight with John Oliver Presents A Day in the Life of Marlon Bundo, depicting a story of Pence, portrayed as a stink bug, attempting to stop two gay bunnies from getting married to each other.
The official Amazon Best Seller lists currently shows that Oliver's version is the No.1 bestseller in the country, while the Pence family version comes in at No. 4.
Oliver, who argued on his show that Pence's career of seeking to preserve traditional marriage and objecting to gay marriage has been harmful to the LGBT community, noted that proceeds from his book will go to AIDS United and the Trevor Project, which seeks to help suicidal LGBT teens.
Pence's family book, on the other hand, will be giving its proceeds to the A21 campaign, which battles human sex trafficking.
Conservative talk show host Ben Shapiro sat down with Charlotte Pence on his podcast on Monday, where the author told him that the book documents portions of the life of the Pence family.
When asked about whether she believes the book will be politicized, Charlotte Pence answered:
"I think that Marlon can bring everyone together," adding that the book "is historically accurate, good for teachers and students."
She noted that it is personal to her father, "as his faith comes into it," and mostly depicts what a Vice President usually does in his day to day activities.
"He's just my dad at the the end of the day. Growing up, this is my dad's job, my mom's a teacher, my dad is a congressman. So we were always included in whatever we wanted to be included in as kids, but we also didn't have to do anything we didn't want to do, or go to any event we didn't want to go to," the writer continued.
Daly of Focus on the Family meanwhile said that when it comes down to it, Oliver is "incensed" at support for "traditional and biblical sexual ethic."
"In particular, the host took issue with our belief that those with unwanted same-sex attraction should be free to pursue counseling, if that is their desire. Of course, millions of Christians and even non-Christians hold to this standard, but Mr. Oliver disagrees and his seething reaction to our ministry's position was palpable," he argued.
"I'm disappointed, though not completely shocked by the animus projected by John Oliver, a man whom I have never met," he added, noting that Focus on the Family will host Pence's wife and daughter for a book signing on March 26 in Colorado Springs.