Food Critic Says People Shouldn't Eat Chick-fil-A for Political Reasons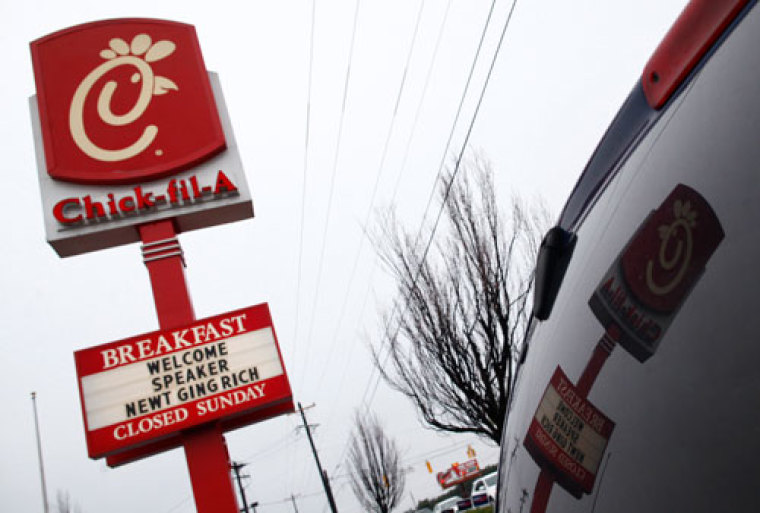 Popular restaurant review site Eater.com has drawn the ire of many after it encouraged readers not to eat at Chick-fil-A, not because of the taste of their food but because of political reasons.
The recent review written by Ryan Sutton at Eater.com urged people not to support the fast-food chain because of comments made in 2012 by Chick-fil-A's chief executive, Dan Cathy, in support of traditional marriage.
Eater took to Twitter over the weekend with its "review," titled "You probably shouldn't eat at Chick-fil-A."
Chick-fil-A, which is known for its fresh chicken, waffle fries and long lines is also recognized for its Christian-rooted values. The restaurant chain observes the Sabbath by closing all of its stores on Sundays and the employees are encouraged to be friendly and hospitable to customers.
But for Sutton, regardless of the restaurant's food and charitable deeds he believes that no one should support Chick-fil-A because of the CEO's stance on same-sex marriage.
"Millions of dollars of the chain's past profits funded groups that opposed same-sex marriage during an era when millions of Americans were fighting for their civil rights; smaller donations went to a group that practiced conversion therapy, a practice that stems from the discredited belief that homosexuality is a mental illness," Sutton wrote before addressing the menu items.
He also filled his "food review" with more accusations by sharing Cathy's quotes about God, America and marriage.
"About a year before the Supreme Court struck down part of the Defense of Marriage Act in June 2013, chief executive Dan Cathy said that 'we're inviting God's judgment on our nation when we shake our fist at him and say we know better than you as to what constitutes a marriage.' Following an uproar over those comments, Chick-fil-A pledged, on Facebook, to leave the policy debate over same-sex marriage to the government and political arena, and to treat everyone with 'honor, dignity and respect,' regardless of sexual orientation."
The reviewer went on to encourage "poultry-purveying" and asked readers to patronize restaurants with progressive views instead. Sutton named Northeast restaurants "Shake Shack" and "Fuku" as an alternative.
The writer assured that the true point of his review was to report Chick-fil-A's "pretty average chicken sandwich," but he just could not help but continue to advocate for LGBTQ rights.
"I'm also here to report that it's the only top 10 quick-service restaurant that doesn't mention sexual orientation in its online equal opportunity statement, and that it holds a zero rating on LGBT benefits and worker protections from a prominent advocacy group. McDonald's scored 100," Sutton continued. "When I asked Chick-fil-A about this, a rep responded with a general statement reaffirming its commitment to equal opportunity and said that it's up to local franchisees to determine benefits."
Upon reading the review, people ripped the commentary on Twitter. See some responses below:
Review: You probably shouldn't eat at Chick-fil-A https://t.co/gP8l1khQnK pic.twitter.com/x2eDAptTlr

— Eater (@Eater) June 9, 2017
They only ranked the food as a way to write a personal article on what they don't like about a business standing it's ground. — Canglin (@Canglin220) June 9, 2017
Sorry, cannot deny chicken and waffle fries. I don't go there for politics, I go there for fast food. https://t.co/7IMQWedVdT

— Trevgauntlet (@Trevgauntlet) June 10, 2017
This article is laugh out loud absurd. Firstly, people care about chicken, not politics. Also, it's delicious. Waffle fries 3/10?! LOLOLOLOL — Hampton Vernon (@HamptonVernon) June 9, 2017
Completely out of touch with reality...

— Joe Matthews (@jmatthews1065) June 10, 2017
Follow Jeannie Law on Twitter:
@jlawcp