Football Coaches Come Out in Support of Coach Kennedy's Right to Pray After Games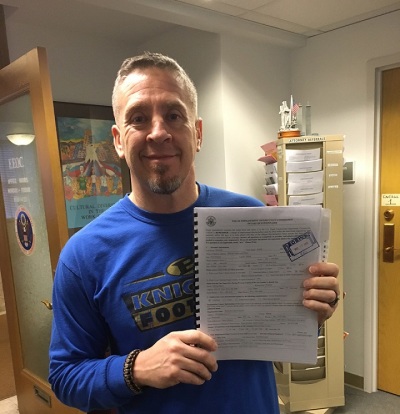 Two high school football coaches who along with their team knelt in protest during the national anthem, have filed a brief in support of a coach who was punished for praying with students at the 50-yard line after games.
Coaches Kellen Alley and Joseph Thomas of Garfield High School in Seattle, Washington, gained national attention when they and their team knelt during the "Star Spangled Banner," echoing the actions of San Francisco 49ers player Colin Kaepernick.
In an amicus brief filed Monday, Alley and Thomas argued that Bremerton High School Football Coach Joe Kennedy should not be punished for praying on the field following games, as his actions constitute the same First Amendment "expressive conduct" as their kneeling during the national anthem.
"To date, the Seattle School District, which operates Garfield High School and is the employer for both Thomas and Alley, has not taken any action to stop or prevent the coaches from participating in this action with their students, or to attempt to limit the coaches' ability to speak regarding this issue," read the brief.
"However, seeing the decision of the district court that has restricted appellant coach Kennedy's rights to express himself on the football field has raised considerable concerns for Thomas and Alley about whether the Seattle School District could prohibit the coaches from participating in this expression or punish them if they refused to comply."
While serving as coach at Bremerton High School in Washington, Kennedy had a habit of going to the 50-yard line to kneel and pray, with some students voluntarily joining him.
In October, the school district placed Kennedy on paid administrative leave and told him to cease his prayer practice. When he refused to do so, he was suspended.
Kennedy subsequently filed his complaint with the Equal Employment Opportunity Commission in December 2015 against the Bremerton School District.
"There is indeed no evidence that students have been directly coerced to pray with Kennedy. But that isn't the standard," explained the school district in a statement.
"While attending games may be voluntary for most students, students required to be present by virtue of their participation in football or cheerleading will necessarily suffer a degree of coercion to participate in religious activity when their coaches lead or endorse it."
In June, Kennedy was given a right-to-sue letter from the U.S. Department of Justice and in August Kennedy filed a lawsuit against the school district with the aid of the First Liberty Institute.
First Liberty Senior Counsel Mike Berry said in a statement released Tuesday that if indeed, "the Constitution protects the right of a football coach to kneel to protest injustice, it certainly protects the right of a football coach to kneel in prayer."
"Whether you are liberal or conservative, whether you are a person of devout faith or no faith at all, we should all seek to defend the right to free speech," said Berry.
"It's central to our American identity as a diverse, pluralistic society, where we foster the free exchange of ideas."