for King & Country's Joel Smallbone Reveals Color Blindness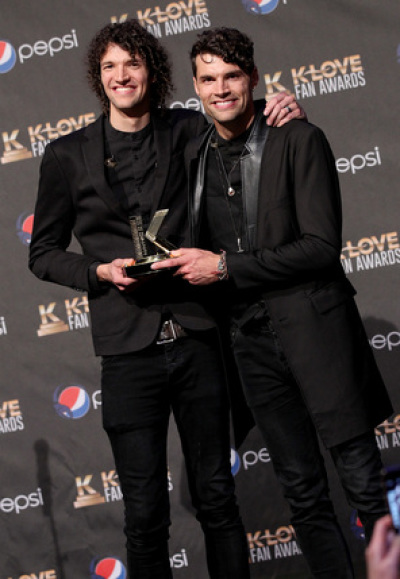 For King & Country is now one of the most sought out bands in Christian music. Whether it be for their live performances or anthemic songs, the two brothers have added a different style to Christian music that brightens things up. Just over the holidays, Joel Smallbone – one half of the duo – was surprised by his wife with a gift that he says made his world feel more "alive."
According to Smallbone's Facebook post,he has a mild case of color blindness which makes it hard for him to decipher certain color tones from others. Thank to his wife, singer Moriah Peters, he now has somehting that allows him to see the colors of life like he never has before.
In the social media post Smallbone revealed his struggle along with a video reaction of the first time he sees the full color spectrum.
"I'm colored blind. It sounds worse than it is, but I find it hard to decipher certain color tones from others. This Christmas my dear wife did a stack of research, stole my sunglasses, and had the lenses replaced with a revolutionary new glass by EnChroma! This glass enables folks with my condition to see as you see. Here here is a snippet of the video when I first put them on... Wow!
It truly was an 'eye-opening' moment for me, if you will. Somehow I find there to be a correlation between this moment and how I often live life... In minutes and seconds, in days and hours, in going through motions. But I do believe, like in this moment if we were to put on spiritual glasses, where we see things as God does, we would see people, circumstances, and life from heavens POV.. With all the colors and vibrance and drama and hope, as it was intended. -J"
"It feels like everything is more alive," Smallbone stated in the video once trying on his new and improved pair of sunglasses.
EnChroma lenses look like ordinary tinted lenses, but according to their website when you look through them something amazing happens: your experience of color vision is fundamentally transformed. With the advanced color correction technology, colors will appear more vibrant, saturated, full, but without compromising the accuracy or color balance of the scene.
Colorful objects, such as flowers, colorful paint and fabrics, food, and traffic signs are heightened. Similar to Smallbone, their website has people's reactions as they experience things such as rainbows or a sunsets, seen for the first time with EnChroma.
The Grammy Award winning Australian brothers, for King & Country, kicked off the New Year as the headlining act of Winter Jam 2016 at the Charleston Civic Center on January 2. Although it's unclear whether or not Smallbone wore his new lenses during the concert, the band's performance is always expected to liven up the world around them. The will continue touring on the Winter Jam Tour Spectacular through until April.