Forbes: Pastors Have One of the Toughest Leadership Roles ... But Not as Tough as Stay-at-Home Moms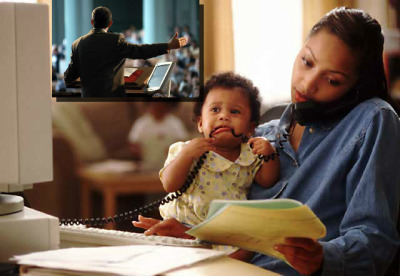 A Forbes article titled "Ranking The 9 Toughest Leadership Roles" lists the pastorate among some of the most difficult leadership positions, alongside corporate CEOs, mayors and university presidents. But the most difficult leadership role, according to the list, is stay-at-home parent.
The article, listing the "pros" and "cons" of the nine listed positions, suggests that "leaders who flourish in one realm may fizzle or even fail spectacularly in another one."
While corporate CEOs rank as no. 9 (the least toughest leadership role), the position was followed by United States Congressperson (no. 8), Editor for a Daily Newspaper (no. 7), Mayor (no. 6), and Pastor, Rabbi, Mullah or Other Holy Leader (no. 5).
The suggested "pro" for the pastor or other religious leader in this position is that he or she is "seen as a man or woman of God, and what [they] say gets taken seriously, at least momentarily."
The "cons," as explained by a Baptist pastor and a Presbyterian pastor, include being under intense scrutiny and managing volunteers.
According to the Rev. Dr. Ken Fong, senior pastor at Evergreen Baptist Church in Rosemead, Calif., "Being a pastor is like death by a thousand paper cuts."
"You're scrutinized and criticized from top to bottom, stem to stern. You work for an invisible, perfect Boss, and you're supposed to lead a ragtag gaggle of volunteers towards God's coming future. It's like herding cats, but harder," said Fong.
Rob Jackson, interim pastor at Hilliard Presbyterian Church in Columbus, Ohio, told Forbes: "I've managed people in a traditional office and also in a church — and one of the major differences between is most of the workers in a church are volunteers who will not do something just because it's their job. Managers of volunteers must always lead by demonstrating a vision for our mission and how their work fits into it."
Thom Rainer, a researcher and current president and CEO of LifeWay Christian Resources, shared last year what he learned from an informal survey of what pastors like least about their jobs. Among the top 10 complaints were "members whose priorities are their own comfort and preferences," "expectation to be on call 24/7" and "conflict and complaining church members."
Due to various difficulties in ministry, anywhere from 35-40 percent of pastors survive less than five years on the job, and after 10 years, 60-80 percent of ministers quit, according to the Francis A. Schaeffer Institute of Church Leadership Development.
But beating out pastors and tough roles like Football Coach, Second-in-Command of Any Organization, and University President as the most demanding that requires the greatest skill was the Stay-at-Home Parent, which includes about 5 million mothers and more than half a million men, according to Forbes and the Pew Research Center.
While stay-at-home parents may have the luxury of wearing "comfortable, stretchy sweat-pant uniforms" all day and taking "optional" showers, they may often face disregard for the value of their role, which doesn't come with pay.
"In my clinical work, it's common to see clients, mostly women, whose identity is tied closely to the parental role and family leadership responsibility. This is further complicated when ambition and the ability to earn had been set aside and professional identity subsumed into family," Joanne Weidman, a licensed marriage and family therapist, told Forbes.
Weidman suggested that the "greatest leadership challenge for a parent today is to be countercultural" but that the role "can provide significant satisfaction and meaning for many years."
Read the Forbes article for more on the nine toughest leadership roles: http://www.forbes.com/sites/robasghar/2014/02/25/ranking-the-9-toughest-leadership-roles/.