Former AC Transit CFO Convicted of Embezzling $590K From Allen Temple Baptist Church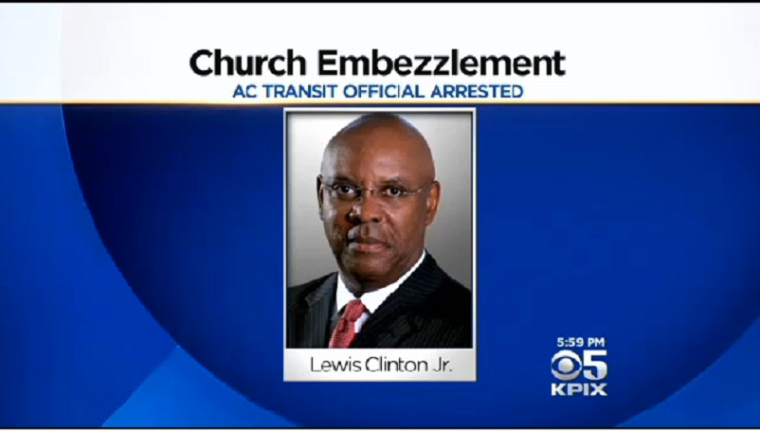 Three years after he was charged with bilking more than $500,000 from the powerful Allen Temple Baptist Church in Oakland, California, former CFO of Alameda-Contra Costa Transit District Lewis G. Clinton Jr., was convicted by a jury Tuesday on seven charges, including money laundering and tax evasion.
Lewis, who was forced to resign from AC Transit months after he was charged in 2014, was convicted after a three-week trial in which prosecutors argued that he stole $590,000 from his church, SFGate.com reported.
The former CFO who had pleaded not guilty after he was charged, was convicted for diverting funds from three nonprofit organizations run by his church to his own company, Eagle Asset Management, between April 2007 and February 2013. He also used the diverted money to pay for personal expenses, including golf club memberships, a luxury car, his mortgage and private school for his children, according to CBS San Francisco.
Allen Temple Baptist Church had formed the nonprofits to provide housing and deliver services to low and moderate-income families in the Oakland community. The irregularities with the funds for the nonprofits were first noticed in December 2012 by a bookkeeper, but Clinton reassured a church official that nothing inappropriate was happening. In March 2013, however, the embezzlement was uncovered.
Once the jury had announced their decision Tuesday, Judge Scott Patton ordered that Clinton be immediately taken into custody and held without bail at the Santa Rita Jail in Dublin, according to SFGate. Lewis had been free on $100,000 bail since he was first charged. Now, he must wait until Sept. 8 before he is sentenced.
At the time of his arrest, Lewis was earning $285,000 annually from AC Transit and was also on the agency's retirement board.
In a statement to The Chronicle, Robert Lyles, a spokesman for AC Transit, said Lewis had not been accused of any wrongdoing while he worked for the agency.
"Mr. Clinton was never accused of malfeasance related to AC Transit and retired from our transit agency several years ago. During his tenure, Mr. Clinton was a key member of the AC Transit Staff," Lyles said.
Allen Temple Baptist Church is one of the first black churches in Oakland and the first black church established in East Oakland.
The Christian Post reached out to the church for comment Friday but calls went unanswered. It is unclear if Clinton is still associated with the church where he also donated to several causes before the embezzlement charges.
When Clinton was first arrested, many leaders at the church declined talking publicly about the case because they were worried they would be called as witnesses.
The Rev. Daniel Buford, who led the church's social justice ministry, said he was shocked as the former CFO "was a good person and a leader" at the church.
"I'm just sorry for him and his family," Buford said.
AC Transit board President Greg Harper expressed similar sentiments.
"We have known Lewis for years, and never had there been any thought by any board member or any staff member that he might not be completely ethical and moral," he said.