Former Mars Hill Deacon Says Mark Driscoll Is 'Unrepentant' Amid Reports That He Is Planning Comeback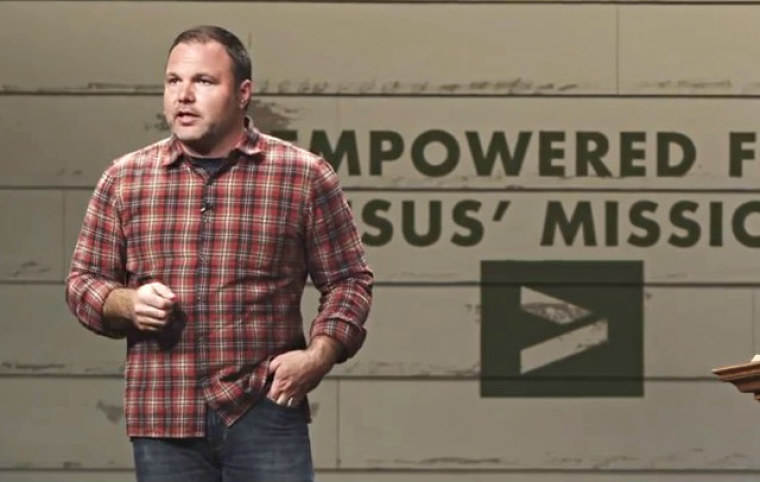 Former Mars Hill megachurch pastor Mark Driscoll has been making a series of public appearances fueling speculation that he's planning a permanent comeback to the spotlight with a new church plant after his resignation from the Seattle-based church in October, where he was accused of plagiarism, misogyny and emotional abusiveness. Some former church members are warning, however, that he isn't ready to be back in the pulpit.
During an appearance on May 17 at Mill Creek's Gold Creek Community Church in Washington, the church's pastor, Dan Kellog, welcomed Driscoll and made a suggestion that has the former Mars Hill community stirring over what could be their former pastor's future plans.
"I know you're probably not going to stay in the area," said Kellog. "You're going to go somewhere and start a church?"
This recent appearance was enough to spark a protest from former Mars Hill members who voiced concern that Driscoll has not acknowledged wrongdoing during his time as senior pastor of the church.
"Mark is unrepentant," Brian Jacobsen, a protest organizer and former Mars Hill deacon, told The Seattle Times. "Should Driscoll try to get a new church off the ground," he said, there would be an "awful lot of people who would oppose him in any way they could."
Jacobsen has joined with other former Mars Hill members in threatening a lawsuit seeking a full accounting of alleged financial impropriety at the church.
The group sent a letter to an attorney representing the now dissolved church which laid out the case for a civil racketeering lawsuit against Driscoll, various trusts and a business affiliated with him and several other former leaders of the church.
The letter charged that money collected from congregants was redirected to buy thousands of copies of Driscoll's book, Real Marriage, in order to give it placement on The New York Times best-seller list.
Jacobsen also said he would prefer to have their claims go before a Christian mediator before taking legal action. He wants to see Driscoll go through a period of restoration and accountability that would finally provide answers to where the money that passed through Mars Hill has gone.
Despite the distrust amongst former Mars Hill members, one evangelical leader working with Driscoll during these speaking engagements seems to be seeing a different side of the man who apologized for once calling the United States a "pussified nation."
Ray Johnston of Bayside Church in Northern California hosted the Thrive Conference in May where Driscoll was invited to speak and he said the ex-Mars Hill pastor seems more humble than ever.
"This guy's a more humble version of himself than he's even been," Johnston said. "I wanted to encourage that process to continue. … I thought it would be good for him to be around us and our people."
Driscoll's resignation from Mars Hill, a church he planted in 1996 that grew to a 15,000-member congregation, came in the form of a letter after he took a six-week leave of absence from preaching and leading.
His resignation came amid allegations of plagiarism, misappropriation of funds and abuse of power.
The decision sent shock waves throughout the then 13 other Mars Hill locations, forcing the eventual dissolving of the brand at the end of 2014.
Each former Mars Hill location is now independently managed by their own lead pastor and/or elder team, according to the church's former communications director Justin Dean.
"When pastor Mark resigned we enacted a pre-established succession plan that detailed several options for the church. Those options have always included the independence of our local churches, who already had in place local leaders," said Dean to The Christian Post in November.