Former Meth-Making Addict Shares Story of Restoration, Love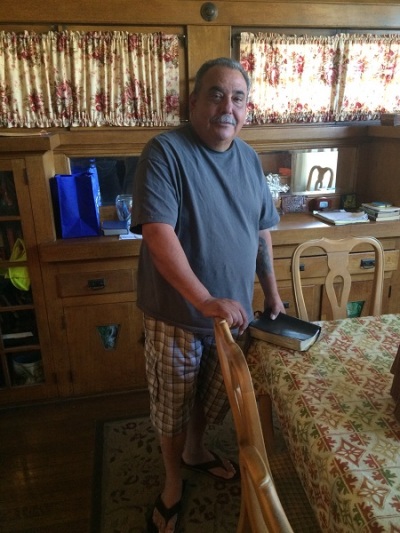 LA VERNE, Calif. — Looking at recovery home manager Sal Perez for the first time I sense an aura around him that can only be described as love.
I tell myself that there's no way that this 46-year-old man, born and raised in the San Gabriel Valley, could have ever had a bad bone in his body. However, Sal is living a life transformed. He'll tell you that in the past, as a methamphetamine addict that manufactured the drug to feed his habit, he intimidated people — he wanted to be bad.
It's a Friday night at Izzy's Place, and almost immediately I realize there's something more to this recovery home than men simply trying to kick alcohol and drugs. Sal is smiling ear-to-ear as he greets new people and gives nods and hugs to others.
In the kitchen, women are preparing dinner for those attending a Celebrate Recovery meeting in the backyard. The meeting is for the dozen or so men in the house, but it's also open to the public — those seeking help in the recovery program that utilizes the steps of Alcoholics Anonymous, the gospel, and identifies a "Higher Power" as Jesus Christ.
The genuine warmth shared by those on the property located in a quaint neighborhood in La Verne, and run by Sal and Homes of Promise is palatable. Obviously, Sal plays a big part of what's happening at Izzy's Place.
"I started using drugs at 12. I started off with alcohol and marijuana, but because that didn't seem so bad, I then started with pills, downers … quaaludes, valium, anything I could get my hands on," Sal told me recently in one of the rooms of the 1917 Edwardian style home. "I was willing to take everything and anything that crossed my path, but one of the things that I didn't want to get involved with was heroin because both my brothers were heroin addicts."
Sal explained that he continued his drug use and drinking even as he met his girlfriend, had a child, got married, and had two more children.
Although there were times in his life before his total surrender to Jesus where he momentarily gave up drugs and began to focus on work, church and prayer, he fell back into a drug culture world that included physical threats, violence, and jail time.
After attending a Bible study and staying sober for three months he "gradually started smoking weed again, doing what I wanted to do and not what the Lord wanted me to do."
"That's when I really started doing the cocaine and acid. I started smoking heroin," he explained. "I wouldn't slam it because I related that to my brothers. I've seen them get sick. I saw them steal from us. I figured smoking it was okay. I didn't realize that if I did it often enough I would still get that same sickness."
Alex Murashko is currently working with One Ten Pictures as an associate producer, developing and working on projects that include stories about people and organizations making a difference in this world as ambassadors for Christ. He previously was a Church & Ministry Editor/Reporter for The Christian Post. He also worked at the Los Angeles Times Orange County Edition and at the Press Enterprise in its Southwest Riverside County bureau. Website: AlexMurashko.com.