Former NFL Player Turned Pastor to Lead Massive Orlando Outreach in Name of Jesus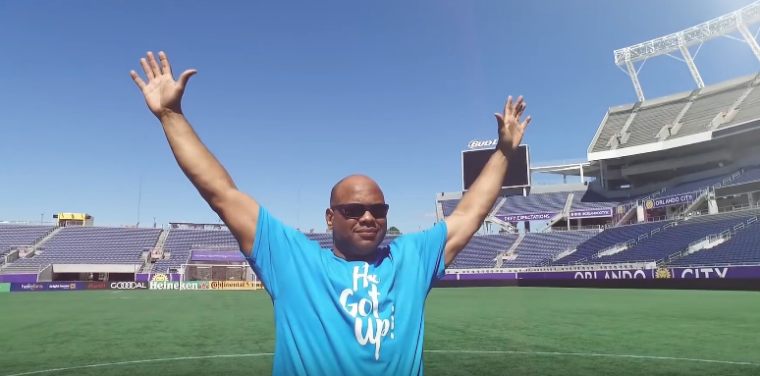 Former NFL player and Super Bowl XXVI champion Tim Johnson and his Orlando Serve Foundation will present "He Got Up," an outreach service on Palm Sunday aimed at reaching thousands of people in need in the Orlando, Florida, area.
Johnson, now the senior pastor of Orlando World Outreach Center, is the driving force behind "He Got Up," an annual event that will be held in Orlando's famous Camping World Stadium in hopes of lifting people up and transforming the city. This year, the event will be held on April 9, from 10 a.m. to 5 p.m.
According to the Orlando Serve Foundation website, the All American decided to start this event because of his concern with the growing number of crises happening in Central Florida and all across the United States in communities that are divided between "the haves and have-nots."
"The homeless numbers are staggering, but the need extends beyond the homeless," Johnson is quoted saying. "The greatest poverty in our society is being unwanted, unloved and uncared for. Our goal with He Got Up is to address this incredible need in Central Florida by demonstrating our love for our neighbors in a dignified way by showing them we care through this day of celebration and service that addresses many of their spiritual and material needs in one location."
The second annual event will begin with an uplifting Palm Sunday service, featuring music, celebrity speakers and a message of hope for all in attendance. "He Got Up" reflects the importance of the resurrection of Christ and being that He got up, others too have the ability to get back up on their feet. After a time of inspiration, the event will continue with a community service fair that will have a host of resources, as well as an onsite job fair with the goal of helping lift families out of poverty.
A VIP Gala Dinner and Celebrity Auction was held last month for "He Got Up" 2017 and saw some big name celebrities, including actor Chris Tucker, former Major League Baseball Darryl Strawberry, and other former NFL players such as Mark Schlereth and Darrell Green who were there to raise support.
"He Got Up" has a slew of sponsors and partners, including Pepsi and Starbucks, for the event. The foundation is also taking donations of $17 as a way to help Central Floridians in need get back to self sustainability. Donations received will be doubled by generous corporate matching partners of "He Got Up."
The site says over "5,000 volunteers" from all different walks of life will connect with the more than 30,000 individuals in need who attend the event. All will be assisted by the nonprofit and government programs and services in attendance. Services include help finding jobs, legal assistance, free clothes, food, haircuts and more.
Pastor Johnson told The Christian Post that he covets prayer, and asked that prayers go out for the power of the Holy Spirit to be present at "He Got Up."
For more information or to volunteer for "He Got Up," visit orlandoservefoundation.org.