Former Prosecutor Warns Pastors, Business Owners About Indiana-Styled Media Ambushes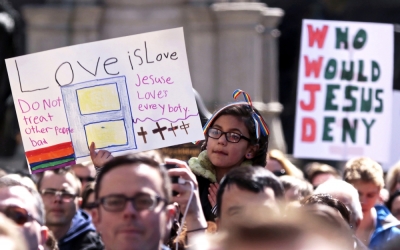 In light of an ambush media attack on a privately owned Indiana-based pizza restaurant, a former prosecutor-turned-private practice attorney is warning both business owners, leaders of churches, and other Christian non-profit groups to prepare for similar attacks.
"There will be more of these types of attacks" predicts attorney Alex Kincaid. A former elected prosecutor in the state of Oregon, today Kincaid's private law firm consults businesses, individuals, and Christian organizations.
Kincaid joined Austin Hill in the Morning to discuss the crisis that has unfolded around Memories Pizza, a small restaurant in Walkerton, Indiana (population 2, 144) owned by Kevin and Crystal O'Connor.
When a local TV news crew arrived at Memories Pizza asking Crystal O'Connor to ask questions about Indiana's new "religious freedom" law, and whether or not her company would cater a same-sex wedding, O'Connor offered her opinions.
Within hours of the video publishing online, the O'Connor's were receiving threats of death and physical harm. As of this week, the O'Connor's are said to be "in hiding" (apparently unsafe in their own home), and their business has been closed down.
"What we are seeing is one group, people with a certain viewpoint, wanting to push their agenda," Kincaid stated. "They are willing to ruin lives, livelihoods, and businesses in order to get their agenda across. As Christians, sometimes it's hard for us to think that others will act this way and that they want to damage us or take what we have because of our beliefs, but it happens."
Kincaid offers several important points to both business owners and leaders of Christian non-profits:
1) Business owners must separate their personal and business assets:
"Make sure your business is set up properly, as an LLC, a corporation, or as some other type of protected entity that is available within your state" she says. "If you're ever the target of a predator or a group that wants to ruin you or perhaps sue you, you shouldn't have to worry about your home or personal assets."
2) Church and business leadership must know where their organizations stand:
"The church needs to know where they stand on these topics" Kincaid says. "By now we have a pretty good sense of what the hot topics are right now. These ambush attacks are mainly happening over people's beliefs about same-sex marriage. If leaders have not met with their business partners or if Pastors have not met with their church staffs or board members to discuss this matter, that conversation needs to happen now" she added, noting that Pastors should not leave congregants or staff wondering what the church's position is.
3) Designate a spokesperson, establish a procedure:
"Not everyone in a church or business should respond to people asking questions about controversial cultural issues" Kincaid says, noting that organizations need to have a clearly stated procedure in place for how question about hot-button topics will be handled. She suggests that in some cases, business and ministry organizations should consider hiring a professional P.R. firm to put together an emergency response communications plan.
You can hear Kincaid's full discussion with Austin Hill here.