Fox Sports Southwest Charged With Discrimination for Firing Craig James Over Homosexuality Remarks
James' Attorney Says Fox Sports Documents Show Religious Discrimination Is Behind Sportscaster's Firing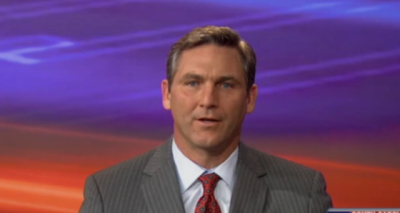 The Texas Workforce Commission issued a charge of discrimination Thursday against Fox Sports Southwest for firing college football analyst Craig James for his religious beliefs.
James was fired from his job as a college football analyst for the cable network due to comments he made about homosexuality during a February 2012 Republican candidate debate for the U.S. Senate.
During a Thursday "Washington Watch" interview with Tony Perkins, president of the Family Research Council, James and his attorney, Hiram Sasser of the Liberty Institute, discussed their thoughts about the TWC's decision and their next steps in this case.
Sasser explained to Perkins that Fox Sports now has to respond to the TWC's discrimination charge for firing James, and added that either the state commission will sue the sports network, or they will give Liberty Institute the opportunity to follow through with a lawsuit for religious discrimination.
"I have two stacks of documents Fox Sports has provided us. One stack of documents supports our claim that they engaged in unlawful religious discrimination," Sasser said. "The other stack of documents I can't discuss the contents of because they're marked 'confidential.' They're secret documents that Fox Sports doesn't want you to see. But I really like those documents and can't wait to use those in the courtroom."
He continued, "I don't know why Fox Sports is continuing to fight this. Every day that goes by the cost of getting out of this discrimination claim is going up for Fox Sports."
James commented during the interview that the day before he was fired, Fox Sports executives exchanged emails among themselves discussing the "Craig James and gay community controversy."
"That's what they were talking about the day before they fired me," he said. "Now we're trying to make sure that they are held accountable for their actions."
On Aug. 30, 2013, Fox Sports Southwest announced that James was hired as a college football analyst. However, following one appearance on the cable network, the veteran broadcaster was dropped from the postgame show he was to co-host along with Erin Hartigan and former NFL quarterback Tony Banks.
During one of the 2012 Republican candidate debates for the Senate seat vacated by retired Sen. Kay Bailey Hutchison, then candidate Ted Cruz voiced his concerns that Tom Leppert, the former mayor of Dallas who was also running for the Senate seat, had participated in two gay pride parades.
When asked by the debate moderator if Cruz was suggesting that Leppert was in favor of same-sex marriage, he replied: "What I am saying is that when a mayor of a city chooses twice to march in a parade celebrating gay pride that's a statement, and it's not a statement I agree with."
Even though the point of contention was between Cruz and Leppert, James decided to weigh in on the issue by interjecting his opinion about homosexuality.
"I think right now in this country, our moral fiber is sliding down a slope that is going to be hard to stop if we don't stand up with leaders who don't go ride in gay parades. I can assure you I will never ride in a gay parade. And I hear what you're saying, Tom, but leaders – our kids out there need to see examples," James asserted during the debate.
His comments led the moderator to ask if he believes people are born homosexual or if they choose to be gay.
"I think it's a choice, I do," James said. "I think that you have to make that choice. … they are going to have to answer to the Lord for their actions."
These comments, according to Sports Illustrated, led Fox Sports executives to decide not to finalize a contract with James, who was hired by the regional network.
"Sports executives were not happy with the hire by the regional network, and the hire had not been fully vetted at the highest levels of Fox Sports management," SI.com reports.
Perkins asked Craig if he was surprised that Fox Sports Southwest had fired him simply because he vocalized his support for the biblical definition of marriage when he was asked to answer that question during a debate as a candidate for the U.S. Senate.
"I really am," Craig said, "particularly because of the fact that I said it nearly 18 months before I ever went on the air at Fox Sports. I said nothing on the air at Fox Sports about my positions – biblically, or about politics or anything else.
"If we let this slide, it will have a chilling effect on other employees and the country. And it would embolden employers who don't like the belief of their employees, and they can just fire them. It can't happen, and that's why we're fighting for this."