Franklin Graham Calls on High School Football Coaches Nationwide to Kneel in Prayer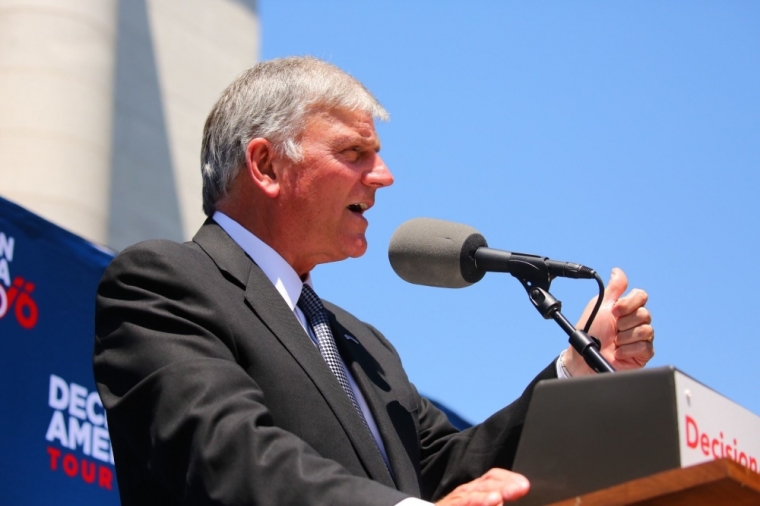 Popular evangelist Franklin Graham has called on high school football coaches across the country to kneel in prayer after their games next Friday in response to a U.S. appeals court ruling against a public school football coach in Washington who was punished for praying.
Graham, the son of world renowned evangelist Billy Graham and the president of the Billy Graham Evangelistic Association, took to his Facebook page on Friday morning to blast the Ninth Circuit Court of Appeals' decision Wednesday to deny coach Joe Kennedy injunctive relief after he was suspended in 2015 by the Bremerton School District in Washington for kneeling in prayer at the 50-yard line after every game.
"The Ninth Circuit Court of Appeals has ruled that coaches can't pray or make religious gestures on the field after a game," he wrote. "These progressive activist judges have gone too far."
Graham then issued his call to coaches across the nation.
"At next Friday night's game, on Sept. 1, I think it would be great if football coaches across the country went out on the field wherever they are and prayed. And those there to watch the game stand in prayer with them," Graham stated. "Let's show our support for coach Kennedy, a former Marine who didn't back down on prayer."
The three-judge panel ruled that because Kennedy was a public school employee, not a private citizen, it could not grant him the relief he was looking for "to avoid violating the Establishment Clause" of the First Amendment to the United States Constitution.
"When Kennedy kneeled and prayed on the 50-yard line immediately after games while in view of students and parents, he spoke as a public employee, not as a private citizen, and his speech therefore was constitutionally unprotected," the court's opinion stated.
In addition to his Facebook post, Graham talked about the court's ruling in an interview with Fox News' Todd Starnes on his radio show Thursday.
"It's sad this has happened but it really doesn't surprise me," Graham said. "We find these courts and these judges are making these decisions against the will of the people."
Graham also indicated on the program that he was not surprised by the ruling.
"We have judges out there who hate God and hate His standards and disrespect the people who follow God," Graham asserted.
In addition to Graham, other prominent conservative Christians have criticized the ruling.
"Shameful decision by the Ninth Circuit to allow Bremerton to suspend coach Kennedy for the crime of praying in public," Republican Texas Sen. Ted Cruz wrote on Twitter.
Dallas megachurch Pastor Robert Jeffress, who is one of President Donald Trump's closest spiritual advisers, offered his opinion on the court's ruling during an interview with Fox News on Friday morning.
"The Ninth Circuit Court of Appeals has once against perverted the original intent of the First Amendment. The Establishment Clause of the First Amendment simply says Congress cannot establish a state church in which people are coerced to worship in. It has nothing to say about prohibiting a voluntary prayer at a football game," Jeffress, the senior pastor at First Baptist Dallas, said. "But, what the First Amendment does promise is that coach Kennedy and all Americans have the free exercise of religion. That doesn't just refer to what we do from 11 to 12 on Sunday mornings, but it means freely exercising our faith in every area of our life."