Franklin Graham Calls Johnny Depp 'Dark Soul' After Trump Assassination Threat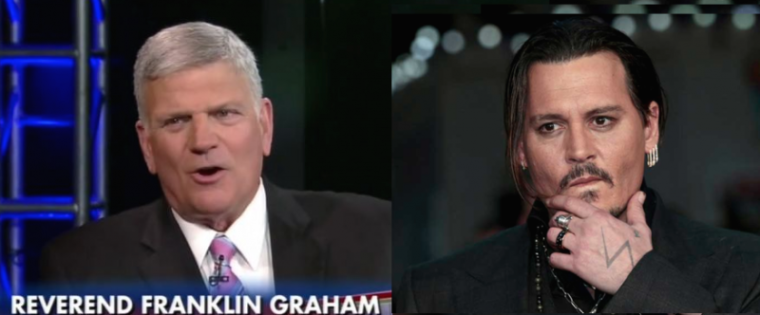 Evangelist Franklin Graham, president of the Billy Graham Evangelistic Association, says actor Johnny Depp is a "dark soul" and should be ashamed of himself for saying "maybe it's time" for President Trump to be assassinated.
"Johnny Depp is one dark soul. To even suggest the possibility of assassinating the president is absolutely wrong. Shame on him," Graham said in a message posted on Facebook Friday.
At the Glastonbury Festival in England on June 22, Depp asked revelers:  "When was the last time an actor assassinated a president? I want to clarify: I'm not an actor. I lie for a living. However, it's been awhile, and maybe it's time."
In his response, Graham offered Depp a way out of his darkness.
"Jesus Christ died on the Cross for all dark souls — even mine. My prayer is that Johnny Depp will one day come to know the Savior who died so that he could be saved from his sins. Jesus Christ alone can change the human heart and bring us from darkness to light." he continued.
Graham then quoted John 8:12 where Jesus says, "Whoever follows me will not walk in darkness, but will have the light of life."
The North Carolina native ended his post by asking everyone to join him in praying for the protection of Trump, Vice President Mike Pence, and all who serve the United States.
In response to Depp's assassination threat, the White House released a statement on Friday denouncing the comments.
"President Trump has condemned violence in all forms and [it is] sad that others like Johnny Depp have not followed his lead," the statement said."I hope that some of Mr. Depp's colleagues will speak out against this type of rhetoric as strongly as they would if this was directed toward a Democrat elected official."
In a statement to People magazine on Friday, Depp apologized for insinuating that someone should assassinate the president, saying, "I apologize for the bad joke I attempted last night in poor taste about President Trump. It did not come out as intended, and I intended no malice. I was only trying to amuse, not to harm anyone."
The "Pirates of the Caribbean" actor is among other recent examples of a celebrity making threats against Trump.
In May, comedian Kathy Griffin also found herself in a media storm after being investigated by the Secret Service for posing in a photoshoot with a severed and bloodied mannequin head in a blonde wig meant to resemble Trump. She also later apologized.
Rapper Snoop Dogg made a music video released in March in which he depicts himself shooting President Donald Trump in the head.
Singer Madonna was among the first to joke about harming the president. During the Women's March on Washington in January, she publicly said she thought a lot about "blowing up the White House."
Follow Jeannie Law on Twitter:
@jlawcp