Franklin Graham Defends Phil Robertson's NASCAR Prayer for 'Jesus Man in the White House'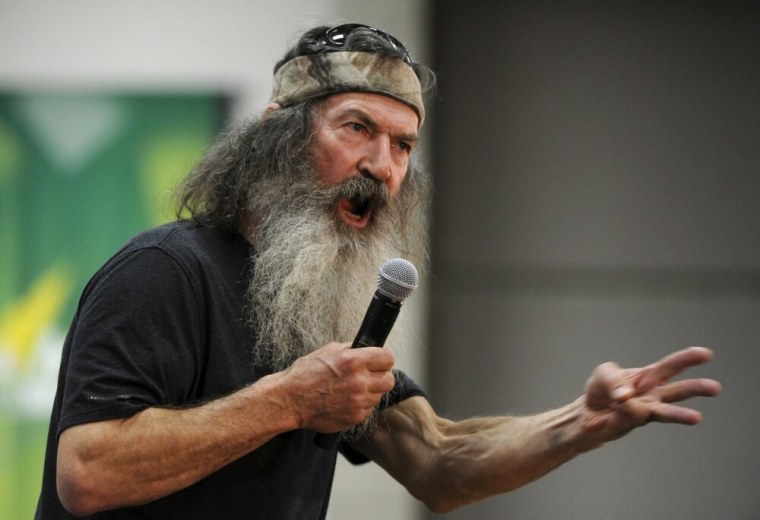 Leading evangelist Franklin Graham has defended "Duck Dynasty" patriarch Phil Robertson from liberal backlash after the latter issued an invocation at the April 9 NASCAR race and called on God to put a "Jesus man in the White House."
During his pre-race prayer at Texas Motor Speedway's Duck Commander 500, the 69-year-old reality TV star asked the Lord to help Americans repent in the name of Jesus and also politicized his prayer by asking God to put a Christian in the White House.
"Father thank you for founding our nation. I pray father that we don't forget who brought us — You. Our faith in the blood of Jesus and his resurrection. Help us father to get back to that," Robertson said. "I pray Father that we put a Jesus man in the White House. Help us do that and help us all to repent to do what's right to love you more and to love each other. In the name of Jesus we pray. Amen."
Following the invocation, a number of liberal columnists chastised Robertson, who has publicly endorsed conservative Texas Sen. Ted Cruz for president.
Associated Press auto racing writer Jenna Fryer wrote an op-ed accusing Robertson of using NASCAR's longstanding prayer tradition to push a conservative "agenda." The article also accused NASCAR of "clouding its image with politics."
"There are Democrats who enjoy NASCAR," Fryer wrote. "Jews and atheists and women too."
Deadspin published a piece on the prayer, which labeled Robertson as an "unapologetic bigot."
The Fansided racing blog "Beyond the Flag" published a column by Christopher Olmstead that questioned why NASCAR continues with its prayer tradition when the sport is trying to shed its "redneck" and "southern" image.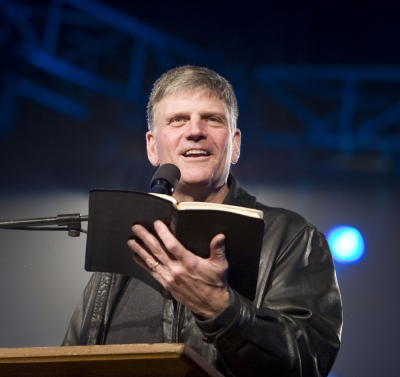 "Although Saturday's invocation is not the norm, when it does happen one has to ask whether or not NASCAR should allow a platform for such things to take place," Olmstead wrote. "For a sport that is trying to become a global success is it appropriate to attach a certain religion or religious tone to yourself? For a sport that might have several drivers who might not believe in God or religion is it appropriate to hold the pre-race invocation. For a sport that is trying to reach out to different cultures around the world who may believe in a higher power other than God, is it appropriate to have the invocation?"
The Orlando Sentinel published an article bashing NASCAR and claimed that letting Robertson pray only hurt the dying pre-game-prayer tradition in sports.
"NASCAR has been on a diversity kick for a decade, trying to win over people who view it as Rednecks R Us," the op-ed states. "Why would it hand a microphone to a guy who embodies every stereotype the sport is trying to escape?"
Graham, the president of the Billy Graham Evangelistic Association and a frequent commenter on current events, took to his Facebook Page on Saturday to defend Robertson and the NASCAR prayer tradition.
"The Name of Jesus has been controversial for 2,000 years. He was falsely accused; He was unjustly tried; He was turned over to a mob to be executed. And the mention of His Name 2,000 years later shakes the world to its very core," Graham wrote. "Phil Robertson 'The Duck Commander' prayed in Jesus' Name at last week's NASCAR race, and liberals immediately jumped to say the sport needed to ban the opening prayer altogether! Are you kidding me?"
Graham further asserted that Robertson was right when he called for Americans to repent.
"Phil is right when he prayed for America to get back to God. He said, 'I pray father that we don't forget you brought us — you. Our faith in the blood of Jesus and his resurrection. Help us, father, to get back to that,'" Graham stated. "Pray with me that this nation will turn back to Almighty God!"
"A reminder to every reader — One day 'at the name of Jesus every knee should bow, of those in Heaven, and of those on Earth, and of those under the earth, and that every tongue should confess that Jesus Christ is Lord, to the glory of God the Father,' (Philippians 2:10-11)."