Franklin Graham: Media Didn't Understand 'God-Factor' in Election Outcome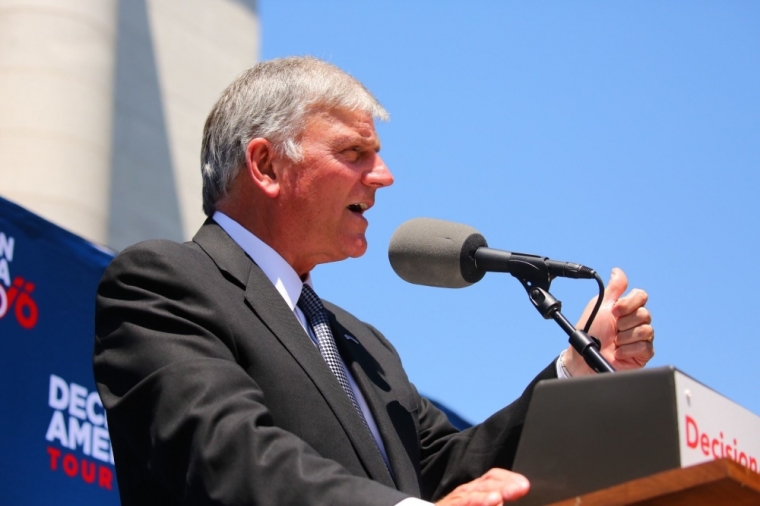 Evangelist Franklin Graham is saying this week that as pundits and election analysts attempt to figure out how they made such inaccurate predictions, they failed to understand the hand of God at work.
Writing on Facebook Thursday, the president of Samaritan's Purse and the Billy Graham Evangelistic Association, asked: "Did God show up? In watching the news after the election, the secular media keep asking 'How did this happen?' 'What went wrong?' 'How did we miss this?'
"Some are in shock. Political pundits are stunned. Many thought the Trump/Pence ticket didn't have a chance. None of them understand the God-factor."
Many analyses show that Donald Trump won as a result of white working-class voters in the Rust Belt, giving him a clear advantage in states like Pennsylvania and Wisconsin. But Graham has an another theory.
"Hundreds of thousands of Christians from across the United States have been praying. This year they came out to every state capitol to pray for this election and for the future of America. Prayer groups were started. Families prayed. Churches prayed. Then Christians went to the polls, and God showed up."
Beginning in Des Moines, Iowa on February 1, Graham launched a bus tour of all 50 states called Decision America, where he held rallies on the grounds of each state's capital where he urged Americans to pray for the upcoming elections and for righteous leaders to be put in office.
Throughout the election's many months, he would often warn of the dangers of godlessness and secular progressivism.
"While the media scratches their heads and tries to understand how this happened, I believe that God's hand intervened Tuesday night to stop the godless, atheistic progressive agenda from taking control of our country," Graham said.
"President-elect Donald J. Trump and Vice President-elect Mike Pence are going to need a lot of help and they will continue to need a lot of prayer. I pray that President-elect Trump will surround himself with godly men and women to help advise and counsel him as he leads the nation. My prayer is that God will bless America again!" he concluded.
According to exit polling data from the New York Times, Evangelical Christians turned out heavily on Election Day and a sizable majority of them voted for the Trump/Pence ticket, besting their numbers from 2012.