Franklin Graham to Millennials: 'Hold Your Nose and Vote ... Donald Trump Has Changed' (Interview)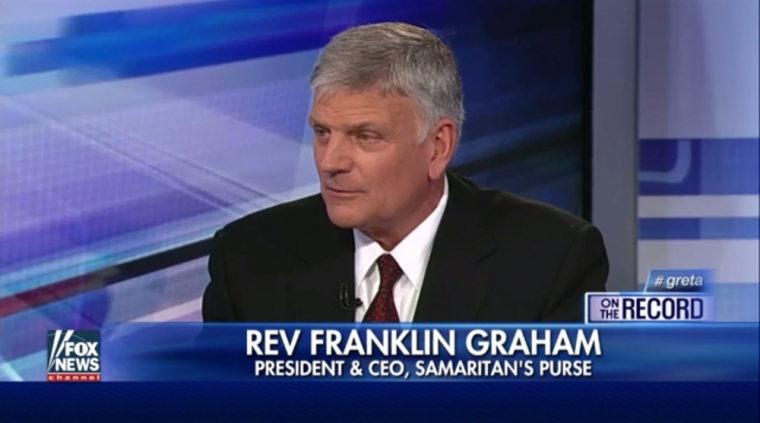 President and CEO of the Billy Graham Evangelistic Association and Samaritan's Purse, Franklin Graham, encourages Christians and Millennials to hold their nose and vote on Nov. 8th, stating he believes Republican presidential candidate Donald Trump is a changed man.
Graham is gearing up to release the upcoming film "Facing Darkness" about Samaritan's Purse and its fight against the largely ignored epidemic of the killer virus Ebola that infected two of the group's medical workers and eventually gained international attention. While talking about the film, Graham gave advice to Millennials and Christians who might be on the fence about voting for either candidate this election.
"We do not live in a perfect world, the political world is not perfect but we are citizens of the United States. So for the Millennials that are listening, you've got an opportunity to change the future of your country, and that is by the ballot box, by voting," Franklin told The Christian Post.
Although his daughter Cissie Graham Lynch recently publicly endorsed Trump for president, Graham has not done so openly but he did make it clear that the Republican Party stands for protecting the rights of Christians.
"There's two different pictures and two different visions for America.The Democratic Party has a vision, Hillary Clinton has a vision, Donald Trump has a totally different vision for this nation with the Republican Party. This isn't difficult to figure out if you are a Christian. There's really very few choices here because the Republican party has a platform where they support life, the unborn, they're very clear on these issues. I think it all boils down to the Supreme Court," he said.
"You may have to hold your nose and vote," Graham maintained. "I have people that say, 'Well I don't like Donald Trump, I don't like what he says.' Well I don't like what he said either, I promise I don't like it. But those are things that he said 11 years ago, not something that he said today. I think Donald Trump has changed. I think God is working on his heart and in his life. But people have to make up their own mind."
Pastor Paula White told The Christian Post that she heard for herself Trump verbally acknowledge his faith in Jesus Christ and the forgiveness of his sins through prayer. Graham also believes the well-known businessman is different from who he was years ago.
"I would use what Donald Trump says today not what he said last year or the year before or 11 years ago. I would judge what Hillary Clinton says and I would judge what Donald Trump says and I would encourage people to pray before they vote, don't just sit home," Graham continued.
The North Carolina native went on to discuss Edie and David Delorme, the owners of Kern's Bake Shop in Longview, Texas, who stood by their Christian convictions on Feb. 17 when they turned-down a wedding cake order for Ben Valencia and Luis Marmolejo.
"The Christian voice needs to be heard this election because we're going to lose our country, we're going to lose our freedoms. There is an assault today against the church. Against those people that live by biblical values. We've seen the baker out West who lost their bakery because they refused to bake a cake for a gay wedding," he noted. "We seen a Christian pharmacist lose their pharmacy because they refused to sell the morning after pill that will create an abortion. They were believers, they refused to sell it and now they're being put out of business."
Franklin toured all 50 states this year, and rallied tens of thousands of people in their capitals to pray for the future of this nation. At 9pm the day before Election Day, Graham is holding a Facebook Live prayer conference call with anyone who'd like to tune in to pray before polls are opened on Nov. 8th.
"Now we have a chance to make a change in this nation and I would encourage Millennials, I would encourage Christians to vote, but pray before you vote. I'm not going to tell you how to vote but you pray and ask God what you should do but vote," he concluded.