Franklin Graham Lauds Mike Pence for Walking Out of NFL Game After Players Kneel During Anthem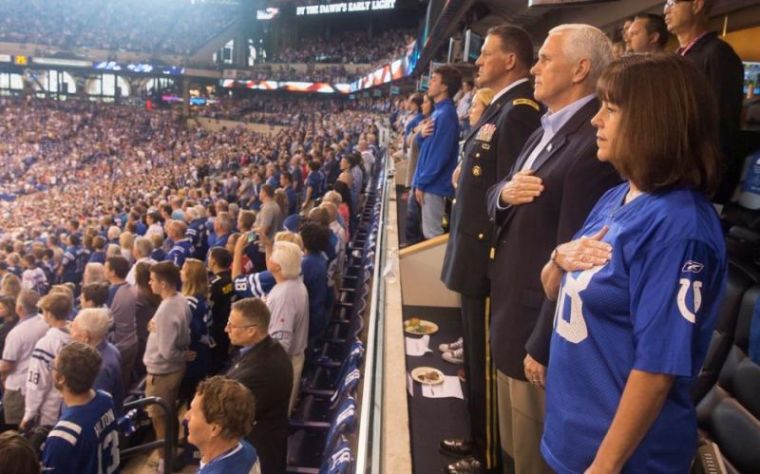 The Rev. Franklin Graham praised Vice President Mike Pence for walking out of the Indianapolis Colts vs. San Francisco 49ers NFL game in Indiana on Sunday to protest players choosing to kneel while the U.S. anthem played.
"Three cheers for Vice President Mike Pence and his wife Karen for walking out!" Graham wrote Sunday on Facebook. "I appreciate that our Vice President has a high standard, and I wish the NFL owners would follow his example."
Pence explained his actions on Twitter, writing: "I left today's Colts game because @POTUS and I will not dignify any event that disrespects our soldiers, our Flag, or our National Anthem." 
"While everyone is entitled to their own opinions, I don't think it's too much to ask NFL players to respect the Flag and our National Anthem," Pence added.
Graham, president and CEO of the Billy Graham Evangelistic Association and of relief group Samaritan's Purse, urged Americans who agree with the decision to let Pence know they "appreciate the strong message this sends."
Numerous football players, along with U.S. athletes from other sports, have been choosing to kneel instead of stand for the U.S. anthem at games, in protest against police violence in America.
Trump and other conservatives have criticized such protests for being unpatriotic, however, with the president even suggesting that NFL owners should fire players who continue refusing to stand for the anthem.
Trump revealed in a Twitter message that it was he who asked Pence to leave the NFL game.
"I asked @VP Pence to leave stadium if any players kneeled, disrespecting our country. I am proud of him and @SecondLady Karen," the president explained.
Other pastors, such as Jamal Bryant of Empowerment Temple AME Church in Baltimore, Maryland, have backed NFL free agent quarterback Colin Kaepernick, who started the wave of protests by kneeling during the anthem.
"The fact of the matter is Colin wasn't playing for the Chicago Bears or the Detroit Lions or the Baltimore Ravens. He was in San Francisco where there are not a lot of instances of police brutality," Bryant told The Christian Post in an interview in September.
"For him to take Black Lives Matter from the fringes right to the kitchen table of America, I feel indebted as a part of that movement. Somebody was courageous enough to make that kind of stand."
Rev. Jim Wallis, the president of the progressive Christian social justice organization Sojourners, further claimed that those upset over the anthem protests are more "white" than they are "Christian."
"For white Christians who got angry, it sadly was one more example of white Christians showing their brothers and sisters of color that the operative word in their white Christian identity is not 'Christian,' but 'white,'" Wallis suggested last week.
He added that the critiques saying those who take a knee "are disrespecting the flag or the troops — is an attempt to veil the problem so many in power have with mostly black athletes protesting police violence against people of color and broader systemic racism."
Virginia pastor E.W. Jackson, an African-American, has insisted that "there is no epidemic of police brutality against black people," however, and has said that the protests are ignorant.
"Just look at the Bureau of Justice statistics. That's the fact," Jackson contended. "Black men commit a disproportionate amount of violent crimes. You might not like to hear that but it's the truth."