Franklin Graham: Muslim Immigration Will Bring Paris Attacks to US Doorsteps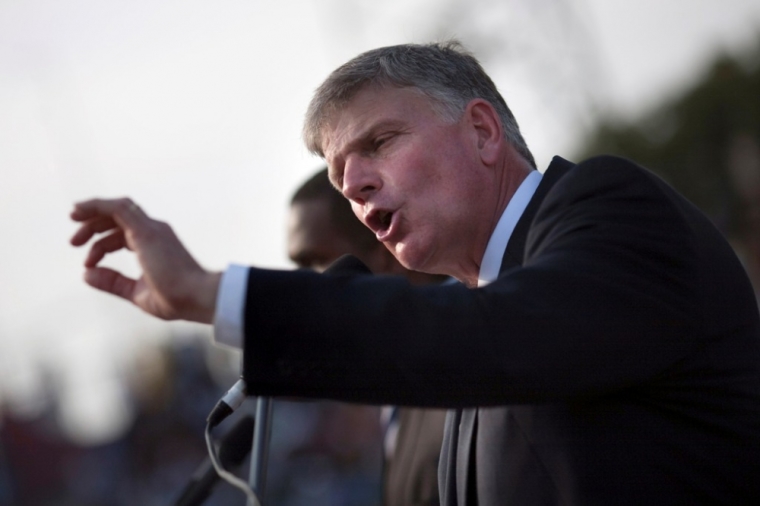 Evangelical preacher the Rev. Franklin Graham has responded to the terror attacks in Paris on Friday by stating that unchecked Muslim immigration to the U.S. could open the door to a repeat of such violence on American soil.
"I've said this before, and many people criticized me for saying it. We must reform our immigration policies in the United States. We cannot allow Muslim immigrants to come across our borders unchecked while we are fighting this war on terror. If we continue to allow Muslim immigration, we'll see much more of what happened in Paris — it's on our doorstep," Graham said in a Facebook message on Sunday.
He added that France and Europe are being "overrun" by "young Muslim men," which is creating security concerns.
"Our president and our politicians in Washington need to wake up before it's too late. This is not the time to be politically correct," Graham continued.
"Our nation's security is at stake. The future of our children and grandchildren is at stake. We should not allow any political or religious group who want to destroy us and our way of life to immigrate to this country."
The Islamic State terror group claimed responsibility for the attacks across Paris on Friday, which left 129 people dead and over 350 injured.
The attacks came at a time when millions of Syrian refugees fleeing civil war and terrorism are trying to make their way to Western countries, creating strife and concern among European states.
In the past, a number of evangelical Christians had slammed Graham's past comments warning about Muslim immigration following the July 16 attacks on two military facilities in Chattanooga, where four Marines were killed by a Kuwaiti-born Tennessee resident.
"We should stop all immigration of Muslims to the U.S. until this threat with Islam has been settled. Every Muslim that comes into this country has the potential to be radicalized — and they do their killing to honor their religion and Muhammad," Graham wrote back then.
Brian Zahnd, an author and pastor of Word Life Church, argued at the time that Graham's remarks reflected "xenophobia," while Greg Jao, vice president and director of Campus Engagement for InterVarsity/USA, wrote: "As an evangelical and American, I strongly reject @Franklin_Graham's proposal. Horrified over 134K people can like it."
Lynne Hybels, of Willow Creek Community Church added: "Yesterday Franklin Graham said really awful things about Muslims. If he knew the Muslim men and women I know, he would NEVER say such things."
Last week's attack on France has stirred strong responses in the U.S., with the governors of Michigan and Alabama suggesting they will seek to stop Syrian refugees from entering their states, NBC News reported.
"I will not stand complicit to a policy that places the citizens of Alabama in harm's way," Gov. Robert Bentley of Alabama said, referring to plans to relocate some of the Syrian hostages to various American states.
Evangelical refugee relief organizations such as World Relief have said, however, that it is wrong to presume that accepting refugees will make the U.S. more vulnerable to terror attacks.
"I have been traveling the country quite a bit in the last few months and I have been to a lot of churches and a lot of good people and definitely the fear factor on the radical elements of Islam coming into our country through the refugee program is certainly out there," said Stephen Bauman, the president and CEO of World Relief.
"But if you look at the 35 years of refugee resettlement in our nation, over three million since the mid to late 70s, and there has been no one from that group of people that are terrorists or have carried out a terrorist attack," he added.
In another post on Facebook, Graham reflected that his heart is "very heavy" over the Paris attacks.
"Prayers do make a real difference — so let's continue to let the people of France know that we support them and are praying for them during these difficult days," he added.