Franklin Graham Says NC Gov. 'Betrayed' Citizens With Transgender Bathroom Order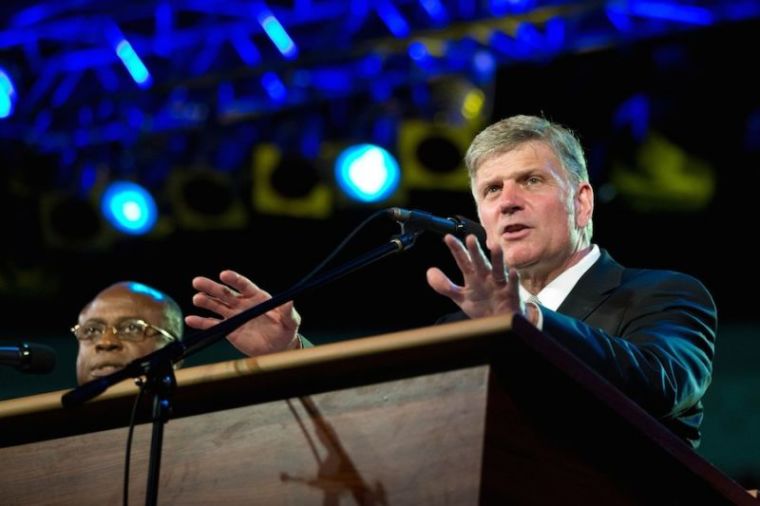 Leading evangelist Franklin Graham and other social conservative leaders are speaking out against North Carolina Gov. Roy Cooper's signing of an executive order that critics say will force some businesses and state entities to allow biological men into women's restrooms and changing facilities.
"North Carolinians have been betrayed by Governor Roy Cooper," Graham, a North Carolinian and the son of famed evangelist Billy Graham, wrote in a Facebook post on Monday, commenting on the non-discrimination executive order that Cooper signed last Wednesday.
Executive Order No. 24 requires that state agencies under control of the governor to adopt policies that do not block, deter, or impede or prohibit "any individual who lawfully uses public facilities under their control or supervision, in accordance with that individual's gender identity."
Additionally, the order calls for companies who contract with the state to adopt an LGBT nondiscrimination policy that prohibits discrimination on the basis of gender identity and sexual orientation among other identifiers.
Cooper also announced a legal settlement to a lawsuit that originated with the state's controversial House Bill 2 law and ensuing HB 142, which prohibits local governments from enacting non-discrimination ordinances that force businesses to allow transgender individuals into restrooms and locker rooms of their gender identity.
Graham, the president of the Billy Graham Evangelistic Association, warns that such an executive order could leave women and girls in danger because of biological male perverts who might take advantage of the policy to access female bathrooms, locker rooms and showers.
"The people of this state are now going to be exposed to pedophiles and sexually perverted men in women's public restrooms," Graham wrote in his post. "Shame on him and those who supported this executive order for being so morally bankrupt and blind to the threat this is to young girls, children, and women. Join me in praying that the eyes of the governor and other politicians who support this would be opened to the dangers, and that the people throughout the state will let their voices and concern be heard."
"What the governor has done is wrong, and if one woman or one child is molested because of this executive order, he should be held accountable," Graham continued.
Other Christian leaders in North Carolina have also spoken out about Cooper's order.
The Rev. Mark Creech, the executive director of the Raleigh-based Christian Action League of North Carolina, wrote in an op-ed that the order could present some serious religious liberty concerns.
"[T]he Order requires that any private contractors or subcontractors doing business with the state must adopt a nondiscrimination policy including 'sexual orientation' and 'gender identity,' which presents a serious problem for people who wish to live and work according to their own peacefully held beliefs," Creech wrote. "The Governor's action is a gross and flagrant betrayal of the compromise struck in HB 142 that took our state back to the status quo before HB 2. The Executive Order is immoral and a gross overreach and abuse of government power."
Tami Fitzgerald, the executive director of the North Carolina Values Coalition, told LifeSiteNews that churches and religious organizations who partner with the state government could be susceptible to the order.
Although social conservatives have voiced disapproval with the order, LGBT activists claim that the order does not go far enough. Some LGBT activists have pointed out that the new order's call for government contractors and subcontractors to abide by nondiscrimination policy does not specifically mention bathrooms.
"It doesn't address that specifically," Cathryn Oakley with the Washington-based pro-LGBT group Human Rights Campaign told The Charlotte Observer.
The Charlotte Observer notes that Cooper's order does not apply to private businesses, cities, towns or even schools. WFAE points out that local school boards are independently elected in North Carolina and superintendents are appointed by those school boards.
"It is important to note that some of the worst portions of the HB2 compromise, HB142, remain on the books and continue to cause real harm to LGBTQ North Carolinians every day," Matt Hirschy, Interim Executive Director for Equality North Carolina said in a statement. "While the executive order issued today is a step in the right direction, the fact remains that a majority of LGBTQ North Carolinians lack protections in housing, employment, and public accommodations."
Tony Perkins, the president of the Washington, D.C.-based Family Research Council, accused Cooper of "going around the state's policymakers and trying to unravel the state's duly-enacted law."
"Despite agreeing to a compromise bill in March, Cooper is shocking everyone by wading back into the bathroom debate with a mandate that undermines the very legislation he signed!" Perkins wrote in a blog post Monday. "Under that law, H.B. 142, North Carolina put the brakes on any local ordinances that would fling open bathroom, shower, and locker room doors to people of both sexes until 2020. In the meantime, it left the regulation of those privacy policies to the legislature — not colleges, city councils, or state agencies."
"Cooper has unilaterally decided to change that policy with a decree that not only lets grown men back into girls' restrooms, but forces local businesses to embrace his transgender agenda or lose their government partnerships," Perkins added. "Ignore your conscience and public safety concerns, the governor has decided, or kiss your North Carolina contracts goodbye."