Franklin Graham Not So Sure President Obama Is Christian (VIDEO)
Evangelist Says He Believes Rick Santorum Is a 'Man of Faith'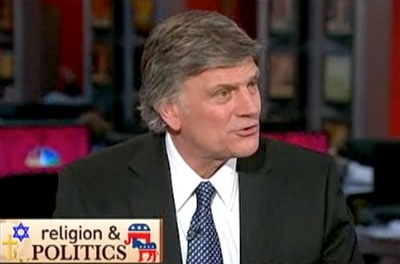 The Rev. Franklin Graham told a panel on MSNBC Tuesday morning that he believes President Barack Obama may or may not be Christian, while expressing his belief that GOP presidential hopeful Rick Santorum's moral stances show him to be a "man of faith."
Graham, the son of evangelist Billy Graham, appeared on "Morning Joe" to discuss, in part, the faith of the presidential candidates. The conversation follows comments made by Santorum this past weekend that Obama's worldview is based on "some phony theology, not a theology based on the Bible." The former Pennsylvania senator later said that he accepts "the fact that the president is a Christian."
Graham is president of the Billy Graham Evangelistic Association and president and CEO of Samaritan Purse. He also conducts missionary events worldwide.
The evangelist issued his steadfast refrain Tuesday when discussing Obama's faith, saying he could not comment on the president's personal relationship with Christ beyond what he had been told by the president himself – that he is a Christian.
"You have to ask him. I cannot answer that question for anybody. All I know is I'm a sinner, and God has forgiven me of my sins… You have to ask every person. He has said he's a Christian, so I just have to assume that he is," Graham said.
When asked if he thought Obama had accepted Jesus Christ in his life, Graham said, "I don't know."
"If he says he's a Christian, I can accept that," the evangelist continued. "All I know is what Jesus Christ has done in my heart and how he changed my life."
While expressing uncertainty regarding Obama's Christianity, the long-time evangelist revealed that he is more convinced of some of the current Republican presidential candidates' faith.
When asked, "Do you believe Rick Santorum is a Christian?" Graham responded, "I think so."
Graham was asked why he thought Santorum appeared more pious than Obama.
"Well, because his values are so clear on moral issues. No question about it. I just appreciate the moral stances he takes on things. He comes from a Catholic faith… I think he's a man of faith," he said.
Graham declined to comment on GOP candidate Mitt Romney, but did say of Mormonism, "They believe in Jesus Christ. They believe a lot of other things, too."
Regarding GOP candidate Newt Gingrich, he commented, "I think Newt is a Christian. At least he told me he is."
Gingrich has faced intense scrutiny from evangelical Christians who remain skeptical of whether the former House Speaker was truly repentant for his two failed marriages, reportedly caused by his own infidelity. Romney's Mormon faith garnered attention when a Baptist minister declared during the 2011 Values Voters Summit that the religion was a cult.
The "Morning Joe" panel snickered Tuesday at Graham's reluctance to declare Obama a Christian while suggesting Santorum and Gingrich are, with some panelists claiming the evangelist was employing a double standard.
But what was perceived as a double standard was Graham perhaps referencing Obama's record and comments on social issues, such as abortion and same-sex marriage, which differs greatly from the social stances of Santorum and Gingrich.
That difference, Graham's supporters say, suggests to the evangelist that Obama does not hold to a biblical teaching on those issues as does Santorum, whose traditional views on abortion and marriage has garnered major media attention.
While Obama has expressed his pro-choice stance, Santorum is staunchly against abortion, telling Piers Morgan on CNN last month that even in the case of rape, women should "make the best out of a bad situation" and choose life. The GOP presidential hopeful emphasized that the same standard would apply if any of his daughters ever became a victim of rape.
Although both Obama and Santorum have spoken out against legalizing gay marriage on the federal level, Santorum expressed in 2003 his concern that legalizing homosexual marriage could lead to the legitimization of incest, polygamy and adultery.
It is perhaps those conservative, biblical perspectives on controversial issues that led Graham to "appreciate the moral stances [Santorum] takes on things."
Although Graham was hesitant to confirm Obama's Christian faith, the evangelist has said on numerous occasions that the president is definitely not a Muslim. Graham did say on Tuesday, however, that according to Shariah law, the Islamic world views Obama as a Muslim because his father was Muslim and faith is passed paternally.
In an interview that aired last Easter with Christiane Amanpour on ABC's "This Week," Graham further expressed sentiments similar to what he said on Tuesday – that he was unclear about Obama's commitment to Christianity.
"For him, going to church means he's a Christian," Graham said. "For me, the definition of a Christian is whether we have given our life to Christ and are following him in faith, and we have trusted him as our Lord and Savior. That's the definition of a Christian. It's not as to what church you are a member of. A membership doesn't make you Christian."
In the ABC interview, Graham said he believed Obama is "a very nice man" but that "our country is in trouble."
The faith of presidential candidates has been a hot-button issue this campaign season, with particular attention paid to which candidate could attract the conservative Christian vote. In January, several evangelical leaders officially threw their support behind Santorum, endorsing the married father of seven children for the GOP presidential nomination.
Polls have shown consistently that faith is important to American voters, although Christians are not unanimous on the view that a presidential candidate's faith should come into play at the voting booth.
President Obama, although vocal about his Christian faith, has attracted criticism numerous times from other believers skeptical of how his political policies line up with a biblical worldview. Despite those criticisms, Obama has not wavered from confessing his belief in God.
In 2010, during a campaign event in Albuquerque, N.M., a woman asked Obama why he was a Christian. The president said he was "a Christian by choice." He revealed that, although his family members "weren't folks who went to church every week" and that he was not raised in the church – "My mother was one of the most spiritual people I knew," he said.
Obama converted to Christianity after college while living and working in Chicago, and worshiped for many years at Jeremiah Wright's Trinity United Church of Christ. During the 2008 campaign, the Obamas withdrew membership over Wright's much publicized controversial sermons and comments.
The president has said that he understands "Jesus Christ dying for my sins spoke to the humility that we all have to have as human beings – that we're sinful and we're flawed and we make mistakes; we achieve salvation through the grace of God."
He added, "I think my public service is part of that effort to express my Christian faith."
According to a 2010 Pew Research Center poll, only 34 percent of Americans think President Obama is a Christian, a sharp decline from 2008 when 51 percent said he was a Christian.
SEE VIDEO OF FRANKLIN GRAHAM SPEAKING ABOUT OBAMA AND ISLAM IN 2010