Franklin Graham Blasts Obama Spox for Saying War on Terror a 'Narrative Fight'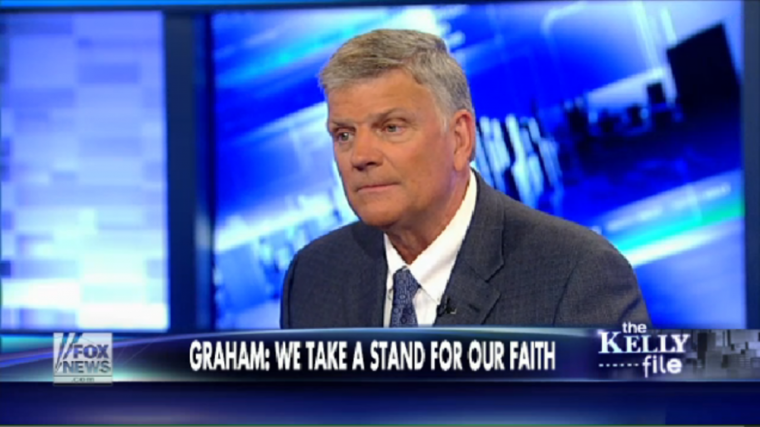 Evangelist Franklin Graham is expressing his displeasure this week at the White House for its handling of the recent terror attacks in Minnesota, New York City and New Jersey.
Writing on his Facebook page Graham asked: "Why is it so hard for our president and his administration to call Islamic terrorism what it is?"
Graham was particularly irked that President Obama called the stabbing of eight people in a Minnesota shopping mall by an attacker who yelled "Allahu Akbar" during the assault a "potential act of terrorism."
"Potential? The Islamic State already proudly claimed credit — how much more 'potential' do you need?" Graham said.
"He didn't call the New York and New Jersey bombings terrorism, just calling these deliberate attacks 'explosions,'" he continued.
Also on the receiving end of Graham's criticism was White House Press Secretary, Josh Earnest.
In response to the attacks Earnest told CNN: "What I can tell you is that we are, when it comes to ISIL, we are in a fight, a narrative fight with them, a narrative battle."
Such a characterization, in Graham's view, diminishes the very real wounds many have endured at the hands of real terrorists.
"Tell that to the families of the over 5000 U.S. service men and women who lost their lives fighting terror since 9/11. And tell it to the victims of terror who suffer every day after having been shot, stabbed, burned horribly, or lost limbs," Graham opined.
Donald Trump's communications director Jason Miller was equally critical.
"When the White House says we are in a 'narrative fight' against ISIS just days after a series of apparent terror attacks on US soil we should all be very concerned," Miller said, adding that "[f]or the US troops in Iraq and Syria who are on the frontlines against ISIS, it's a real fight where we've lost real lives."
Downplaying the Islamic dimension to terrorist attacks is not new for the President.
As The Christian Post reported in June, when transcripts of the 911 calls Orlando shooter Omar Mateen made during the attack on the Pulse Night club on were released, the FBI had redacted them, scrubbing all references to Islam from the record. One homeland security expert told CP that such a move was a "foolish idea that won't work in the long run. It only opens up the Obama Administration to charges of political correctness."
Although the evangelist has not formally endorsed anyone for President in this election season, he has not withheld his distaste for the actions of the current President.
"My prayer is that the next president of the United States will not be ashamed to say the truth and identify Islamic terrorists for what they are," Graham concluded.