Franklin Graham Responds to Efforts to Ban Him From Speaking in UK, Won't Preach Against Gays, Islam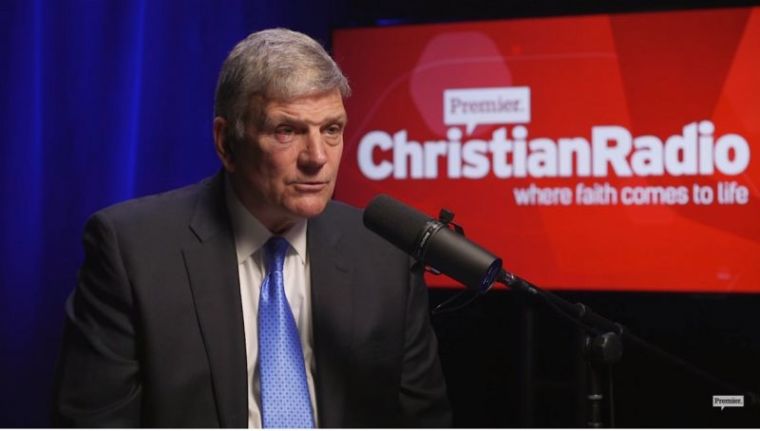 Evangelist Franklin Graham has said that he is not coming to the U.K. later in 2018 to preach against Islam or gay people, despite a petition to bar him from speaking that has been signed by politicians and some church members.
"I'm not coming to preach hate, I'm here to preach about a savior, Jesus Christ who can make a difference in our lives if we put our faith and trust in Him," Graham told Premier in a video posted on Monday.
"We're not here to preach against anyone, we're here to talk about God," he affirmed.
Graham is scheduled to speak at Blackpool in September, but a petition on Change.org that has been signed by over 7,500 people describes him as a "hate preacher" for his outspoken views on topics like Islam and gay marriage.
The CEO and president of Samaritan's Purse and the Billy Graham Evangelistic Association explained that such controversy is not something new for him, however, and that there have always been churches opposed to his preaching.
He insisted that he wants all people to come to his speaking event in September, but said that when it comes to gay marriage, "it's important that pastors understand we cannot compromise the truth," stating that the Bible defines marriage solely as a union between one man and one woman.
For those who take offense with his criticism of Islam, in the wake of radical terror attacks around the world, Graham pointed out that Jesus Himself was "offensive" when He said "I am the way, and the truth, and the life; no one comes to the Father but through Me."
Graham added that Jesus "offended many people," and that the Gospel "still offends people today."
The evangelist insisted that "God's word is true, every word of God is true," and that he is prepared for any possible hostility he will come across in September in Blackpool.
He repeated that he is not there to "speak against Islam, against gays," and that he wants everybody to come listen to what he has to say.
Graham said that his father, Billy Graham, also faced criticism when he preached at U.K. events early on in his ministry.
"They tried to stop him coming," Graham recalled. "He was due off a boat into Southampton and there were petitions to stop him coming and members of parliament speaking against him."
He noted that his father kept on preaching despite dealing with many "difficult people," including Communists in Eastern Europe who challenged the existence of God. Graham pointed out that his father was able to win many of them over, however.
The evangelist spoke on a variety of topics, including the distancing of churches from traditional teachings in both the U.K. and the U.S., as well as on criticism for his support for U.S. President Donald Trump.
When asked about what he thinks of his sister and fellow evangelist Anne Graham Lotz's predictions that the Second Coming of Christ could be soon, possibly in her lifetime, Graham could not say whether he agrees with the precise timing.
He suggested it does not matter if Jesus returns while he is still alive.
"He could come any day, He's coming soon. We see how dark the world is becoming, and it is getting darker by the day, and I think it's just a matter of time before the Lord comes back," Graham said.