Franklin Graham Shares Importance of Global Evangelism on TBN's 'Praise the Lord'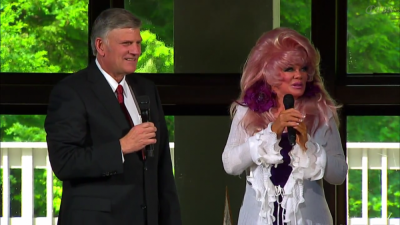 Minister Franklin Graham appeared on the Trinity Broadcasting Network (TBN) this week, co-hosting its signature ministry program "Praise the Lord" with network co-founder, Jan Crouch, just as the network is facing scrutiny over allegations of financial dishonesty.
Graham, son of famous evangelist Billy Graham and president of the Billy Graham Evangelistic Association (BGEA) and the humanitarian aid ministry Samaritan's Purse, hosted Crouch at BGEA's picturesque retreat and training center, The Cove, in Asheville, N.C.
Graham and Crouch, who created TBN with her husband, Paul, in 1973, discussed evangelism in foreign countries, in particular Asian countries like India and China, as well as conflict-torn African countries like Sudan and South Sudan, where Samaritan's Purse is particularly active. Graham acknowledged the challenges, but focused on the role Evangelical Christians have in spreading the Gospel, or as the co-hosts put it, "bringing the word of God to the end of the world."
"The most important thing that any one of us can do is to take the Gospel and take it to the ends of the earth," Graham said.
"It's not Franklin's gospel, it's not Billy Graham's gospel, it's God's gospel," he emphasized when Crouch mentioned that Billy Graham's famous sermons are heard in countries like India and China.
"As always, we are excited to have Franklin Graham joining us on 'Praise the Lord,'" Jan Crouch said in a press release before the airing of the show. "TBN has had the honor to partner with Franklin and Samaritan's Purse on many humanitarian outreach projects both in the U.S. and around the world, and his father Dr. Billy Graham has been a friend of this ministry for many, many years."
Since 1989, Franklin Graham has preached in nearly 40 countries, as well as at over 150 evangelistic festivals in 37 states. He has overseen countless humanitarian outreach projects in the most desperately needy parts of the world, as TBN pointed out in a statement published in the network's website.
Bill Conard, vice president of My Hope With Billy Graham, a massive BGEA nationwide outreach program, and John Cass, BGEA's Director of Evangelism, as well as Ken Barun, BGEA's Senior Vice President for Donor Ministries and Luther Harrison, vice president of North American Ministries for Samaritan's Purse, have also made guest appearances on "Praise the Lord," alongside the Tommy Coomes Band, the featured musicians for many Billy Graham Evangelistic Association events.
TBN has been at the center of controversy after the founders' granddaughter, Brittany Koper, accused the network's board -- consisting in full of the Crouch family members -- of spending donation money on redundant luxurious goods, which, if true, would violate the ministry's status as a nonprofit. In turn, the Paul and Jan Crouch have revealed that Koper, who was the network's finance director, as well as her husband Michael, were fired from TBN in September of last year for allegedly stealing $1.3 million, and suggested the accusations were only an attempt at getting even with the network.
Here is video made available by TBN of minister Franklin Graham's May 9 appearance on "Praise the Lord."