Franklin Graham says Roe v. Wade reversal not a sign America is turning back to God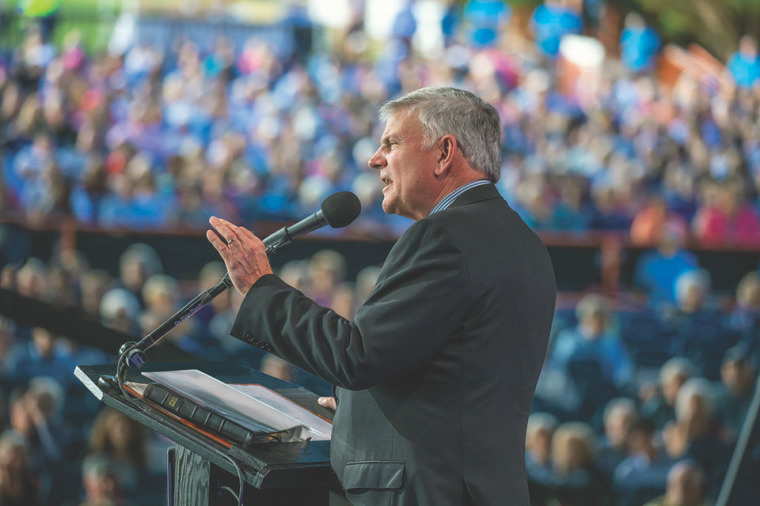 WASHINGTON — Evangelist Franklin Graham offered his thoughts on the state of the pro-life movement while attending the March for Life on Friday, telling The Christian Post that the movement's victory at the U.S. Supreme Court last year is not an indication that America is turning back to God. 
As Friday's march marked the first since the Supreme Court overturned previous precedent making abortion a national right, Graham said the overturn of Roe v. Wade is not a sign that the country is drawing closer to God, emphasizing that the decision was "just one battle and one war." 
Graham, the CEO of Samaritan's Purse and the Billy Graham Evangelistic Association, noted that the ruling moved the battle to the state level. 
Graham, who offered a public prayer to close out the pre-march rally on the National Mall,  said that he could not tell the pro-life movement whether it should prioritize grassroots activism or passing state-level bans. But what the Christian leader wants to see happen is the "millions of women" who have had abortions come to see that God forgives them. 
"But they have to come in repentance, asking God's forgiveness and believing in the name of his son, Jesus Christ. If they're willing to do that, God will forgive their sins, our sins, all of our sins, and against the millions of women out there who feel there's no hope," he said. 
Responding to the claim from some abortion proponents that pro-lifers hold their position due to a hatred of women, Graham pointed to the Christian perspective on life. 
"Remember, God created life; I didn't, He did," the son of the late evangelist Billy Graham said. "And it's precious, and we can't use abortion as birth control." 
While Graham believes there should be some abortion exceptions, such as situations where the pregnancy presents a risk to the mother's life, those exceptions "are few and far between." 
"We just need to protect life," he said. "Life is precious." 
Graham, 70, has often expressed his belief that America — through its embrace of secular postmodernism — must repent for turning away from the will of God. He recently wrote on social media that "[a]nti-God agendas that once hid in the darkness are now proudly out in the open, demanding acceptance."
"Developed nations are being overtaken by socialism, removing God from anything and everything in the public square. And if you think things are bad, just wait — they'll get worse," he stressed.
As The Christian Post reported, before the Supreme Court issued its ruling in Dobbs v. Jackson Women's Health Organization, Graham criticized President Joe Biden for appearing to imply that abortion rights come from God. 
After Politico published a leaked draft opinion in May, suggesting a majority of the justices supported overturning Roe, Biden spoke about the abortion issue during a speech at the White House. 
Biden recalled a debate he had decades earlier with Robert Bork, a Supreme Court nominee put forward by former President Ronald Reagan in 1987. Bork's nomination was later defeated. 
"Bork believed the only reason you had any inherent rights was because the government gave them to you," Biden, a Catholic, said. "I said I believe I have the rights that I have not because the government gave them to me, which you believe, but because I'm just a child of God, I exist." 
In a tweet, Graham condemned the president's remark, asserting that the idea that the "right to an abortion comes from being a child of God" is "just not true." 
"Mr. President, that's just not true," Graham stated. "Being a child of God does not give you the right to take the lives of the innocent. Abortion is a sin — simply put, it's murder."