Franklin Graham on Terror, Doubting God: Bible Says Things Will Get Worse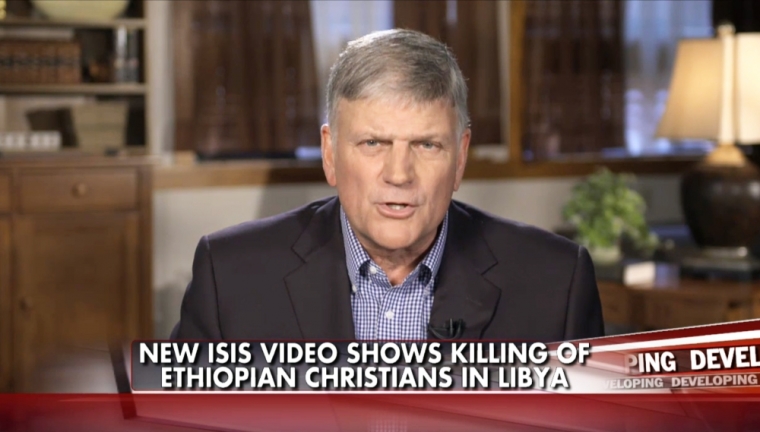 Evangelical leader the Rev. Franklin Graham responded to a recent story of the Archbishop of Canterbury Justin Welby doubting God's presence in the wake of the Paris terror attacks, by stating that the Bible warns that things will only get worse.
"There have been many times that I've asked God why. But the Bible clearly warns that as we draw to the end of this present age, things are going to get worse. There are going to be wars and rumors of wars, famines, disease, earthquakes, pestilence, and these are just the beginnings," Graham said in a Facebook message on Monday.
Welby, who leads the Church of England, admitted over the weekend that the terror attack on the French capital earlier in November that killed 130 people made him doubt the presence of God.
"Saturday morning, I was out and as I was walking, I was praying and saying: 'God, why — why is this happening? Where are you in all this?'" Welby said on BBC's "Songs of Praise" program.
"He said 'in the middle of it' and also in answer from Psalm 56 — 'he stores up our tears in a bottle, none of our sufferings are lost.'"
Graham pointed out, however, that asking God "why" isn't necessarily the same thing as doubting God.
Speaking of his own experience, Graham said that ever since he became a Christian, he has never doubted God.
"And I don't doubt for a second that I'm a sinner who has been saved and forgiven by His grace. Not because of who I am, but because Jesus Christ shed His blood 2,000 years ago on a cross for my sins and God raised Him from the dead — and He is alive forevermore," the evangelical leader said.
"When I was 22 years old, I asked Jesus Christ to come into my heart, and I haven't doubted Him for a moment since that day."
The tragedy in Paris, carried out by the Islamic State terror group, shook much of the Western world, with even the Vatican's Pope Francis admitting it is hard to make sense of such violence.
"I am close to the people of France, to the families of the victims, and I am praying for all of them," the pontiff said following the attacks. "I am moved and I am saddened. I do not understand, these things hard to understand."
Graham, who heads the Billy Graham Evangelistic Association, blamed Islam for the continued attacks and violence carried out by the militants.
"Islam has declared war on the world, and it's high time we acknowledge it and respond decisively," Graham said.
"I don't know about you, but I don't want to live under Islam. I will bow my knee to no one except Almighty God."