Franklin Graham: Trump's Refugee Vetting Should Apply to All Immigrants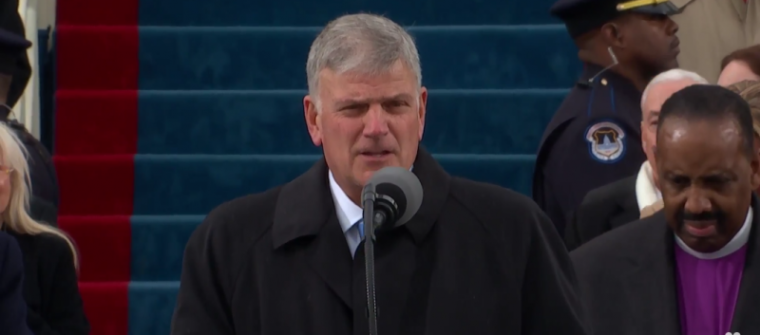 Amid all of the protests against President Donald Trump's executive order restricting travel from seven Muslim-majority countries considered hotbeds of terrorism, evangelist Franklin Graham says the move does not go far enough.
In a Facebook post Tuesday, Franklin Graham suggested that some seem to have forgotten that it is the president's priority to protect the Constitution and the safety of the American people.
"Taking action to secure our borders had to start somewhere. Is it perfect? Maybe not, but it is a first step. As they work on solutions during this 90-day travel ban, unfortunately there are some innocent families caught in this time of transition," Graham noted.
Graham, who is the president of the Billy Graham Evangelistic Association and the aid organization Samaritan's Purse, added that he believes that the screening process needs to apply to everyone, not just to people from the seven countries listed on the executive order.
"We have to be sure that the philosophies of those entering our country are compatible with our Constitution. If a person does not agree with our principles of freedom, democracy, and liberty, which we cherish, they should not be allowed to come. Without question, Sharia [Islamic] law is not compatible," he continued.
Franklin Graham and other Christian leaders who have backed the president have been criticized in recent days for their support of his immigration proposals.
Mark Wingfield, pastor of Wilshire Baptist Church in Dallas recently blasted the evangelist for this stance, calling him "dead wrong" on the issue, in Baptist Press Global Saturday. He further urged Christians to withdraw and redirect their financial support from Samaritan's Purse.
Because of the scope and influence of the humanitarian organization, American Christians "enable this platform — and Graham's mean declarations — by supporting Samaritan's Purse financially and by teaching their children to support it through Operation Christmas Child," Wingfield asserted.
"Do you really want to send a dose of hatred along with that shoebox of Christmas trinkets?" he asked.
In response to such criticism, Graham said that "we have to realize that the president's job is not the same as the job of the church. As Christians we are clearly taught in the Bible to care for the poor and oppressed ... regardless of religious background or ethnicity, like the Good Samaritan Jesus shared about in the Bible."
"Our job is to show God's love and compassion. I believe the best way to help is to reach out and help these people in their own countries," he said.
"I support the establishment of safe zones inside Syria and Iraq that would be protected by the international community until a political solution is found. We need to pray for political solutions that would bring peace and allow them to return to their homes as they desire," he concluded.