Franklin Graham Worried by Mideast's Islamist Surge
Evangelist Franklin Graham raised concern over the rise of Islamism in the Middle East, saying it threatens America's security but more than that it has put the lives of the Christian minority in the region at risk.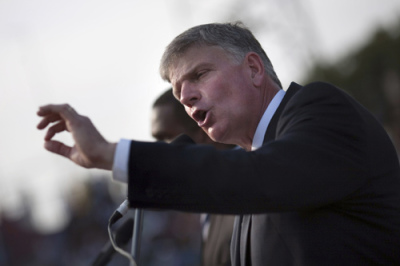 The fall of authoritarian regimes and ongoing protests against the ones that remain in power have created a power vacuum that the Muslim Brotherhood is exploiting to "establish Shariah law in every one of these countries and they will roll back the clock in the Middle East," the son of Billy Graham told Newsmax Sunday.
Since a wave of protests began across the Middle East and North Africa in December 2010, the regimes in Tunisia, Egypt and Libya have fallen while President Ali Abdullah Saleh of Yemen has agreed to step down and there's a civil war underway in Syria.
The Muslim Brotherhood's Freedom and Justice Party in Egypt and the "moderate" Islamist Ennahda party in Tunisia have won most seats in their respective constituent assemblies.
"It's a threat and it's a threat to the United States, a threat to our security because so much of our oil comes from the Middle East," said Graham, the president and CEO of the Billy Graham Evangelistic Association and the international relief and evangelism organization Samaritan's Purse.
But more than that, the Christians of the Middle East are at risk. "For the Christians that are there – and there's something like 13 million Christians inside of Egypt – their lives are at risk," the evangelist said. "Churches are being burned, Christians have been killed but it rarely makes the news in this country."
In less than six months after President Hosni Mubarak's downfall, alleged conservative Islamists killed more than 24 Christians, injured over 200 and destroyed at least three churches in Egypt.
Graham said he fears for the church in the Middle East. "I have many friends there, I have been working in the Middle East for years and I spoke to one of the pastors today from the Middle East; he called me from northern Iraq very afraid as to the situation in their county."
Franklin Graham Raises Concern over Islamic Surge
The evangelist also spoke about the threat from Iran, which is believed to be rushing to acquire nuclear weapons. He said it could be a prelude to fulfilling the prophecy of Armageddon in the Bible.
"They've already said that they're going to use them," he said. "If we don't stop them then Israel will be forced to stop them. I'm afraid the Iranians are going to use their nuclear weapons against Israel when they have them. I believe it's a real threat."