FRC Launches Petition to Support Colonel Suspended for Not Supporting Gay Marriage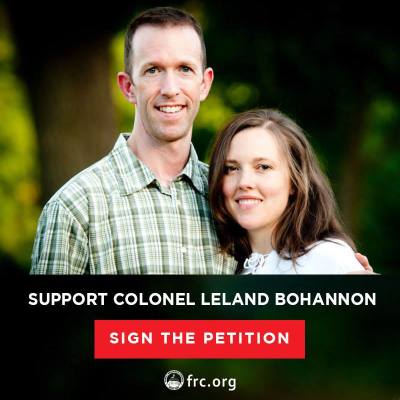 The Family Research Council has launched a petition in support of an Air Force colonel who was reportedly disciplined for refusing to sign a certificate of appreciation to the same-sex spouse of a retiring serviceman.
Colonel Leland Bohannon garnered headlines last month for his refusal to sign the certificate, citing his religious beliefs as the reason.
In a statement posted to social media last week, the socially conservative group denounced the treatment of Bohannon and called on the military to respect his conscience.
"Leland Bohannon is a decorated colonel who has devoted decades of his life to serving our Air Force. Yet Colonel Bohannon's life and service are about to be completely derailed because he could not in good conscience sign a 'certificate of spouse appreciation' for a service member in a same-sex marriage," stated FRC on Facebook.
"As a result, his superior suspended Colonel Bohannon, withheld his decoration, and submitted a poor performance appraisal recommending that he not be promoted. Please sign the petition to support Colonel Bohannon."
Addressed to United States Air Force Secretary Heath Wilson, the petition has gotten over 17,000 signatories as of Monday morning.
"In addition to correcting Air Force policy to protect religious freedom in this context to ensure this does not happen to anyone else, we respectfully request that you reverse the complaint against Colonel Bohannon and remove any unfavorable materials related to this complaint from his record," stated the petition.
The incident involving Bohannon occurred at Kirtland Air Force Base in New Mexico in May, according to The Associated Press.
"The certificate is an unofficial document that's traditionally given to the spouses of retiring military members, and it's not legally required to be given," reported AP late last month.
"A superior officer agreed to sign the certificate, and the master sergeant then filed the complaint, claiming that Bohannon discriminated against him due to his sexual orientation."
While the Air Force is looking into the matter, some, including transgender Navy veteran and attorney Paula Neira, have argued that Bohannon's refusal to the certificate is tantamount to "bigotry."
"The military is a secular institution and if an individual's deeply held religious beliefs prevent them from doing their duty and leading/treating all of their subordinates equally then they need to resign," said Neira to military.com.