FRC Warns Female Soldiers 'Expect Men in Your Showers' After Transgender Training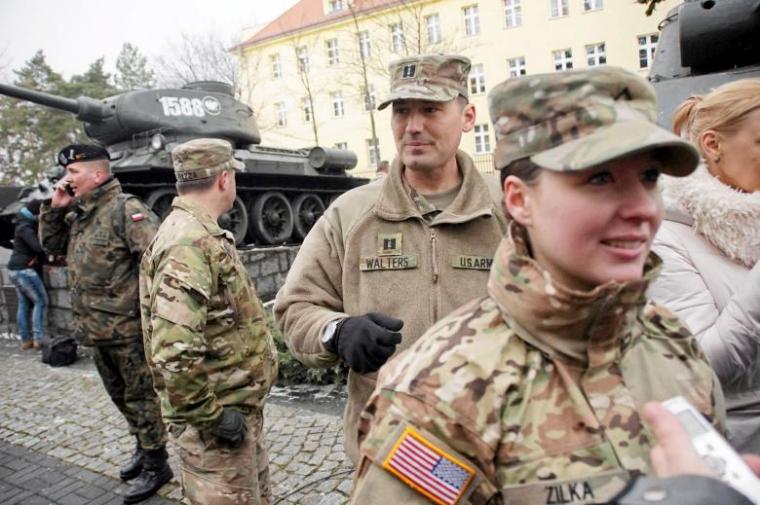 The Family Research Council has warned female soldiers in the U.S. armed forces to "expect men in your showers" following mandatory transgender sensitivity training in the Army this past Tuesday.
"There may be privates in the Army, but there's no privacy. That may be the biggest takeaway from the mandatory 'transgender soldiers training,' which took place on bases across the country Tuesday," FRC President Tony Perkins' Washington Update reported on Wednesday.
"In a major break from precedent, the military's largest branch is warning female soldiers to expect biological men in their showers. That's just one of the mind-blowing changes the Army is bracing for on July 1, along with 'male pregnancies' and taxpayer-funded gender reassignment," it continued.
"Unfortunately, this will be the new normal for the U.S. military until the Trump administration steps in and frees the Pentagon from the grip of the Obama years."
As USA Today reported, the Army has been carrying out compulsory transgender sensitivity training for soldiers and civilians, as part of the Pentagon's efforts to push policies calling for acceptance of transgender troops.
The sessions on Tuesday reportedly also aimed to "assist soldiers who have a medical diagnosis indicating that gender transition is medically necessary through the gender transition process."
Lt. Col. Jennifer Johnson, an Army spokeswoman, said the training module "specifically outlines key roles and responsibilities of commanders, transgender soldiers, military medical providers and administrative management organizations."
The left-leaning RAND Corporation, an American global policy think-tank, claims its researchers found in a 2016 study that there are "6,000 transgender soldiers among the Pentagon's 1.3 million-member active-duty force," and has argued that incorporating transgender soldiers would only have a "negligible impact on the military's readiness to fight."
Before the ban on transgender troops in the military was rescinded last year, such individuals had been barred from service based on medical concerns.
The FRC has asserted that the military should not be "torn between its role securing America and securing the Left's radical social agenda."
"The administration needs to decide: does it want an Army of cultural guinea pigs or a lethal force defending America? Because the latest crises prove that our military can't — and shouldn't have to — do both," Perkins positioned.
FRC's Lt. General Jerry Boykin (U.S. Army-Ret.) noted that soldiers have been told that they "must accept living and working conditions that are often austere, primitive, and characterized by little or no privacy."
Women who express discomfort "showering with a female who has male genitalia" will reportedly have to depend on their commander to make accommodations, and in some situations it may not be provided.
"Given that America doesn't have a strategy to defeat ISIS or win the war in Afghanistan, it seems to me that we should be spending our time and resources defeating terrorists, instead of paying people to come up with ridiculous policies like this one," Boykin said.
"It does nothing to improve readiness or to fight and win the nation's wars — which is the only question leaders should care about."
The FRC further explained that soldiers are also being trained on how to deal with female soldiers who are "transitionioning" to look like men but still have their female reproductive and sex organs and become pregnant, with the Army outlining that "all pregnant soldiers will receive prenatal care and are entitled to all relevant medical care, administrative entitlements, and leave prescribed under service policies."
Perkins warned that Trump's administration has only two weeks, until July 1 when transgender individuals are to be officially welcomed in the Army, to push back against the "moral landmines left behind by Obama."