Fred Hammond Exclusive: Singer Believes Gospel Artists Need to 'Come Together' to Help Genre; Discusses New Album 'I Will Trust'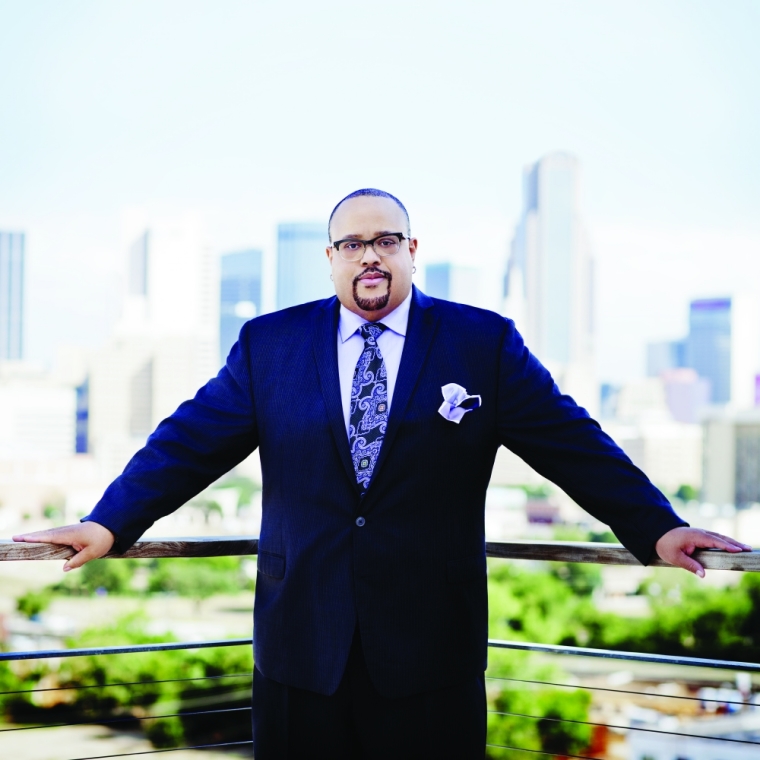 It is not easy learning to walk again in front of the world, but Fred Hammond's first steps out on faith after major knee surgery helped the singer create a new level of worship music with his latest album.
With numerous Stellar, Dove, and Grammy Awards, Hammond, 53, has proven his worth in the gospel music industry. After 30 years, it is easy for anything to become routine, so God had another plan for Hammond's latest album, "I Will Trust."
The gospel musician underwent knee surgery last January, which left him wheelchair-bound, physically and emotionally scarred. Instead of just internalizing that trauma, Hammond decided to share it with the world through his music.
"I have two nine-inch slits going down my legs to remind me that I had to have a traumatic event," Hammond told The Christian Post. "I had to learn how to walk again, but I did it and trusted God and that's kind of what makes this [album] special. All of the emotional trauma that came with it."
He likened the experience to becoming a new Christian believer on fire for God, only to become complacent years down the line.
"When you got in it, you got in it with such an energy and you got to Bible class, and you're learning and you're always itching to learn more about the Lord. Then you look up 15 to 20 years later and you see people running around the church and you say, 'how come I don't do that anymore,'" Hammond explained to CP. "Well this kind of event helps you go back to that. You start to appreciate the privilege of life, of the Lord and just the ability to do what you still do."
Getting back to work was no easy feat for Hammond who recently toured with friend and Pastor Donnie McClurkin. Before embarking on the tour, Hammond did some shows two months after his double knee operation that forced him to appear on stage in a wheelchair.
"I was hesitant, because I felt the way you feel when you become newly disabled. People are used to seeing you walk, and now you're in a wheelchair on stage," Hammond recalled to CP. "It's kind of how I felt when I've seen people come out with Oxygen tanks, wheelchairs and stuff and they're still on stage. I wondered would people feel a way about me?"
The experience seemed to humble Hammond, who once believed that he would stop performing at a certain age to avoid being put in such a position. However, the feelings of doubt and uncertainty transformed into blessings for himself and others.
"You look at people because of their age ... you're thinking because of age, and now all of a sudden the Lord puts you in that same position and you're much younger than that person," Hammond told CP. "I was wondering how it would be. Then people would see it and it became a boost to their faith, so it became a boost to my faith."
In under a year, Hammond is back to walking, has taken on a tour and is now in full promotion mode with his album. While proving his setback would not slow him down, the gospel artist admits that work needs to be done to bring the industry back to the glory days that he came from.
"We don't have the economics or commerce behind us to make us feel valuable," the singer said. "Back in the day there were five, six or seven labels out. Now, we're all independent and scratching for what we can get."
Hammond takes notice of the comradery in the hip-hop world, where rappers are always joining on one another's records and introducing new artists. He believes the hip-hop industry is partially surviving because of that and that the gospel music industry can do the same.
"It's not what it used to be and I think we've all let it down. And I think unless we all come together and say 'what do we need to do' then we're all going to be in trouble," Hammond told CP, "unless we all come together and do something with all the minds, not the church minds but the biggest minds ... artists, labels and radio, then the church will follow."
Still, the singer admits that gospel music can be limiting when there are other styles an artist like himself seeks to explore.
"I have so many styles of music in me that I want to portray but I have to try to limit myself to this box," he admitted. "But praise and worship is what it is and you cater to the church so that's kind of where you've got to stay."
After watching Christians and people in the world alike flock to reality television programming, Hammond is finding a way to stay in his own lane while fulfilling what he believes people want to see.
"I think people really want to see the real because the world is portrayed at such a low level that if you come out with a real wholesome show people don't want to see that anymore. This is what's happening in most people's lives everyday: fussing, cussing, fighting and back-biting," he told CP. "The Bible is a novel that's crazy ... it has murder, it has victory it has mayhem, it has disaster, it has war, sanctification. So if God made that, at a certain time, people need to see it."
For that reason Hammond is working on plays, films and a novel to reflect some of that grittiness and reality. For now, Hammond is staying busy promoting his music and realizes there is a reason that he still makes it after so many years as a tried-and-true industry veteran.
"I really believe it's a calling and that's not just something to say that sounds great. I believe I was born for this, to tell people about the Lord," Hammond told CP. "I just wanted to find the best way that I could do it and music, God graced me to be able to do it, and that was the way that I chose to be effective and tell people that the Lord loves them. It's something inside of me that's more than a contract that I have, which I'm grateful for."
Fred Hammond's new album, "I Will Trust" is available wherever albums are sold. For more information about the singer, please visit www.realfredhammond.com.