Freddie Gray's Injury 'Almost Impossible to Acquire …by Simply Rolling Around in a Van' Says Neurosurgeon Ben Carson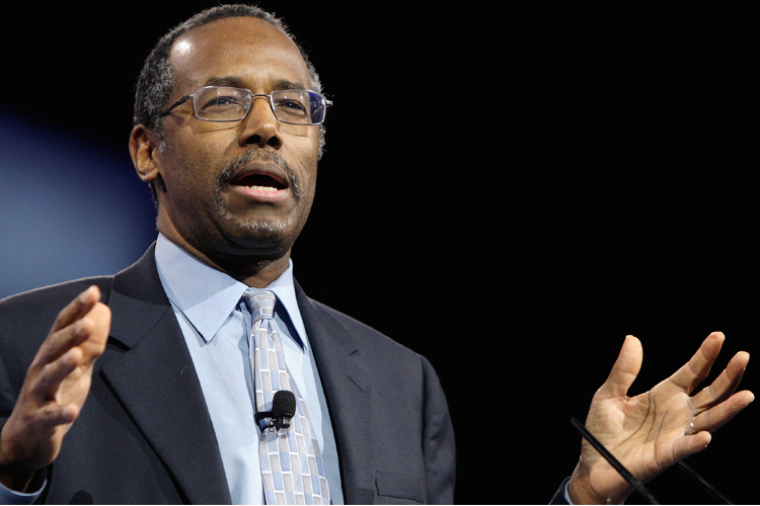 Renowned neurosurgeon and potential 2016 GOP presidential candidate Ben Carson, said Friday that the injury suffered by 25-year-old Freddie Gray who died on April 19 after being gravely injured while in the custody of Baltimore police officers "would be almost impossible to acquire…by simply rolling around in a van."
In an announcement highlighting criminal charges against six Baltimore police officers Friday, the city's newly elected State's Attorney Marilyn Mosby said Gray suffered a spinal injury while being transported in a police van and charged that the failure of the police to put a seatbelt on him was a crucial factor in how he was injured.
"Mr. Gray suffered a severe and critical neck injury as a result of being handcuffed, shackled by his feet and unrestrained inside the B.P.D. wagon," said Mosby.
An earlier report in The Washington Post citing a police document had suggested that Gray may have been intentionally trying to hurt himself while being transported in the police van.
Carson, who served as head of pediatric neurosurgery at Johns Hopkins Hospital in Baltimore before retiring in 2013, said however that it is quite unlikely that Gray's injury was self-inflicted.
"The type of injury incurred by Mr. Freddie Gray at the base of the cervical spine with significant damage to the spinal cord requires a great deal of direct pressure to that area. It would be almost impossible to acquire such an injury by simply rolling around in a van, regardless of how violently," said Carson in a post to his Facebook page. "Therefore, there is a high likelihood that direct trauma occurred."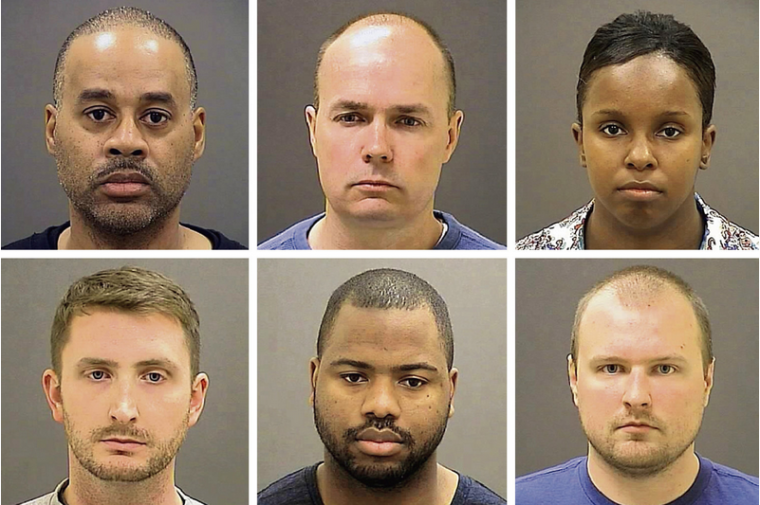 And on Friday, Mosby named the six Baltimore police officers she intends to hold accountable for what happened to Gray.
Officer Caesar Goodson Jr., 45, who was the driver of the police van that carried Gray through the streets of Baltimore, was charged with second-degree murder, manslaughter, second-degree assault, two vehicular manslaughter charges and misconduct in office, according to The Baltimore Sun.
Officer William Porter, 25, was charged with involuntary manslaughter, second-degree assault and misconduct in office. Lt. Brian Rice, 41, was charged with involuntary manslaughter, second-degree assault and misconduct in office. Sgt. Alicia White, 30, was charged with involuntary manslaughter, second-degree assault and misconduct in office. Officer Edward Nero, 29, was charged with second-degree assault and misconduct in office.
One police official told the Baltimore Sun that when Gray was placed in the police van on April 12, he was talking and breathing. When the 25-year-old emerged however, "he could not talk and he could not breathe."
The Sun also reported that Gray isn't the first detainee to be gravely injured while being transported by police.
"Relatives of Dondi Johnson Sr., who was left a paraplegic after a 2005 police van ride, won a $7.4 million verdict against police officers. A year earlier, Jeffrey Alston was awarded $39 million by a jury after he became paralyzed from the neck down as the result of a van ride. Others have also received payouts after filing lawsuits," said the report.
Former Baltimore police officer Charles J. Key who testified as an expert five years ago in a lawsuit over Johnson's subsequent death said the injuries are known to be inflicted by what is known as a "rough ride" — an "unsanctioned technique" in which police vans are driven to cause "injury or pain" to unbuckled, handcuffed detainees according to the Sun.
While noting that the majority of law enforcement personnel he knows are "decent and caring" Carson called on those responsible for Gray's injury to come forward and admit whatever role they played.
"Let us hope that whoever inflicted said trauma did not intend to yield such an outcome. It is undoubtedly true that this entire situation would be easier on everyone if admission of whatever guilt exists and a full description of what occurred is presented to the necessary authorities," said Carson.
Carson also commended the urgency Mosby's office placed on Gray's case which has sparked massive protests and riots in Baltimore City.
"I was happy to see that the prosecutor came out sooner rather than later with a statement about a tragic incident surrounded by significant clouds of suspicion. It is unlikely that people who feel wronged by the system were merely going to forget about this if they felt it was being swept under the rug. Now it will be up to everyone to peacefully let the legal and judicial process work, and today is a great start per the prosecutor's actions," said Carson.
The retired neurosurgeon is expected to reveal on Monday, whether or not he will run for president.