Free Church of Scotland Tells Creflo Dollar He Is Not Welcome With Blasphemous Prosperity Gospel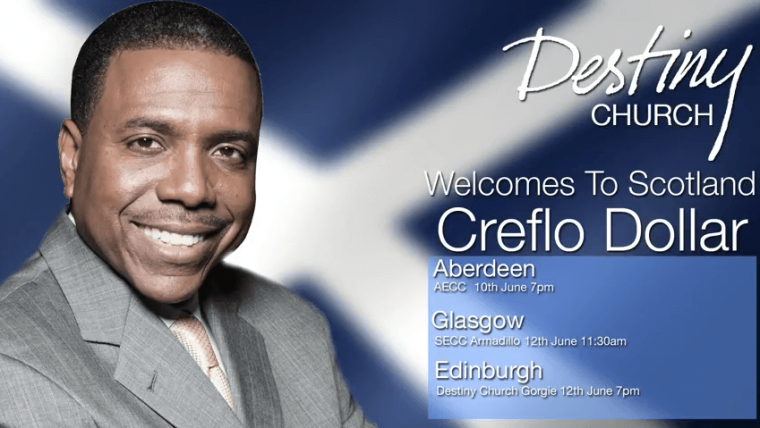 Televangelist and founder of World Changers Church International, Creflo Dollar, has been branded as "blasphemous" and declared a persona non grata in Glasgow by high profile moderator of the Free Church of Scotland, the Rev. David Robertson.
Pointing to Dollar's reputation as a proponent of the prosperity gospel, Robertson, Moderator of the Free Church of Scotland, told Scottish news publication The National that Dollar should stay away from the country.
"Creflo Dollar coming here is appalling. He's a multimillionaire, American, televangelist and we really do not need him here. The church doesn't need him. It's embarrassing to have somebody like that come. His prosperity gospel is blasphemous. It's not what people in Scotland need to hear," said Robertson, who is regarded as one of Scotland's boldest Christian broadcasters.
"He's not welcome. Not with that message. It's a horrendous message that he brings. It's not the message of the Gospel at all. He can keep his jet and use it to fly elsewhere," he added.
Dollar is set to appear at the Scottish Exhibition and Conference Centre located in Glasgow as well as Aberdeen and Edinburgh in June for a preaching tour organized by Destiny Church. In a promotional video for the events, Dollar says he believes attendees will "receive an abundance of undeserved favor."
"Have you been living life as if Jesus never died on the cross and shed his blood? Is there a difference between things that happen and requirements before the cross and requirements after the cross? If you want to understand this with revelation knowledge, join me in Scotland."
Dollar made international headlines last year after The Christian Post broke a story about a campaign launched by his ministry seeking $300 each from 200,000 people to purchase a luxurious $65 million Gulfstream G650 jet for him and his team to travel.
Since stating his opposition to Dollar's visit last Saturday, Robertson revealed in a blog post Tuesday that some members of the Christian community have hit back at him for what appears to be an attack on Destiny Church.
Answering questions about whether his disdain for Dollar is an attack on Destiny Church, Robertson said: "In one sense yes. They should not be inviting a false teacher to come and preach in their churches — if so they are associated with that false teaching. Of course God can use Creflo Dollar — he can use a donkey and he can use a pagan king. But we are not to allow God's sovereignty to justify human sin/stupidity and our own inaction. I would plead with Destiny to uninvite Creflo Dollar."
He further noted that he is a strong believer in free speech and is using that right to condemn Dollar's false teaching.
"Of course I believe in free speech. I am using it! I am not arguing for Creflo Dollar to be banned or to have his passport taken away. I am using my free speech to point out his false teaching and to ask churches not to invite and people not to support him," he continued.
Asked if he believes in God's blessings, Robertson replied: "When I got this one I wanted to pull out the last remaining bits of my hair! Of course I believe in God's blessing. I just don't make a direct equation between the richer you are, the more it shows how you are blessed. Blessed are the poor. It is not a sin to be a millionaire. It is a sin to teach that the Gospel is a way to make yourself a millionaire and it is a sin for a pastor to take the tithes of the poor and turn them into a private jet for himself."