Free Shotguns in 15 Cities: Armed Citizen Project Aiming to Cut Crime
'Criminals Do Not Want to Die in Your Hallway,' Says ACP Founder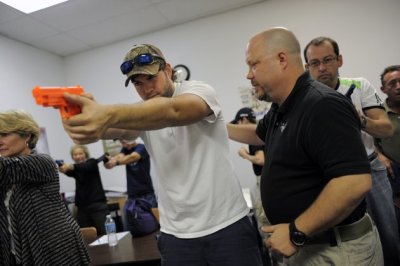 A leading gun-rights advocacy group is planning to provide free shotguns to residents living in high-crime areas in 15 U.S. cities across the nation.
The Armed Citizen Project, which is based in Houston, Texas, revealed their plans during the National Rifle Association convention while insisting they want to increase the number of guns given away specifically to those living in high crime neighborhoods.
Kyle Coplen, the group's founder, is striving to have residents of middle to high-crime areas able to defend themselves should the situation present itself. For each of the 15 cities that are scheduled to hold the gun giveaway, Coplen hopes that at least a quarter of residents in the troubled neighborhood will be able to obtain a firearm.
The group is also creating street signs and lawn signs that would let potential criminals know that the residents are armed.
"It's our hypothesis that criminals do not want to die in your hallway. We think society should use that fear to deter crime," Coplen said.
The Armed Citizen Project's website describes that the group is "choosing mid-high crime neighborhoods in cities across America, and offering defensive weapons to citizens that can pass a background check, and that will take our safety, legal, and tactical training."
The group is working to give shotguns away in cities with stricter gun laws and is going to hold the gun giveaways in Tuscon, Detroit, Indianapolis and New York. They hope to expand to 15 cities by the end of 2013.
The Armed Citizen Project will not give shotguns to random people; the group will provide applications for citizens to take part in a firearms training program once applicants pass a background check.
One of the cities on the list is Chicago, which has been marred by gun violence in recent years, resulting in a homicide rate surpassing 500 last year for the first time in four years.
Free Shotguns In Chicago (Armed Citizen Project Wants To Arm Single Women)