Freed Americans Give Mike Pence Note Quoting Psalm 126 After Returning From North Korea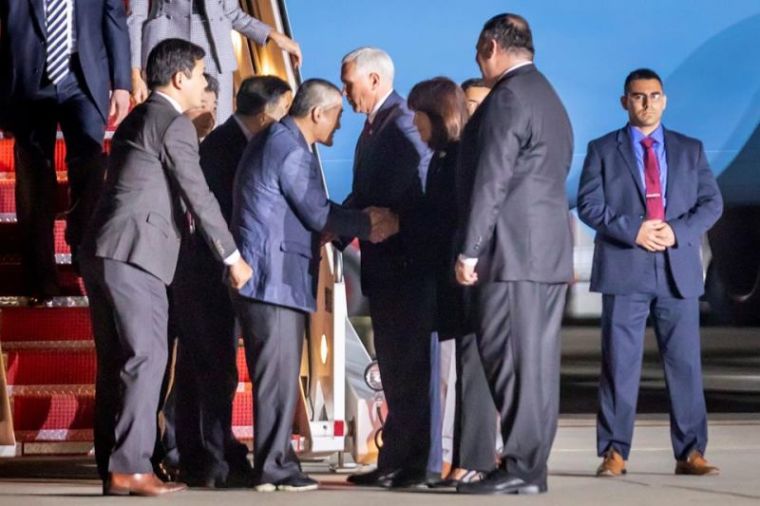 The three American Christians who were released this week from North Korea gave Vice President Mike Pence a note citing Psalm 126 as a thanksgiving of freedom during their meeting early Thursday morning.
Pence, a devout Christian and former Indiana governor, took to his Facebook page to share the note he received while meeting the men — Kim Dong-chul (arrested in 2015), Tony Kim (arrested in 2017) and Kim Hak-song (arrested in 2017) — at Joint Base Andrews in a Washington suburb of Maryland after their release was secured by Secretary of State Mike Pompeo in Pyongyang earlier this week.
"It was an amazing moment I'll never forget ... when three Americans stepped onto the tarmac at Joint Base Andrews and gave me a signed personal note with Psalm 126 on the back," Pence wrote in his post. "To these men of faith and courage — God bless you and welcome home!"
Pence posted a picture of the note, which featured the first three verses of the Psalm.
The Psalm reads: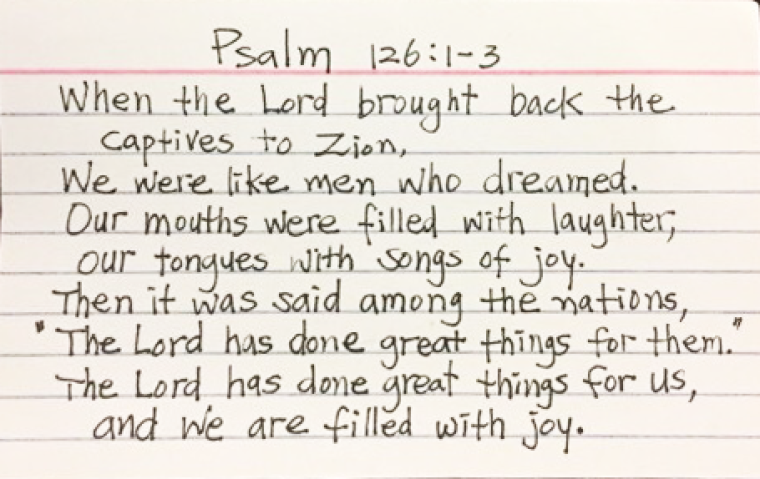 It has not been made clear who wrote the note and how the note was presented to the vice president.
The three men issued a statement upon their return early Thursday morning thanking God and the Trump administration.
"We would like to express our deep appreciation to the United States government, President Trump, Secretary [of State Mike] Pompeo and the people of the United States for bringing us home," the prisoners said in their statement.
Through his translator, Kim Dong-chul  explained that "it's like a dream" to be returning to the U.S.
"And we are very, very happy," Kim, a naturalized U.S. citizen who was sentenced to 10 years on spying charges in April 2016, said.
Responding to a question, Kim detailed what it was like to live inside a North Korean labor camp.
"Yes, we were treated in many different ways," he said through the translator. "For me, I had to do a lot of labor. But when I got sick, I was also treated by them."
North Korea has been ranked for the last 16 years as the worst country in the world when it comes to Christian persecution, according to Open Doors USA's annual World Watch List.
Thousands of individuals and families have been subject to brutal torment and torture inside of North Korea's "re-education camps" for crimes such as defection from the country and even Christian worship.
The release of the three Americans comes after the death last year of U.S. college student Otto Warmbier. Warmbier was arrested while in the country with a tour group in 2016 and sentenced to 15 years in prison for allegedly taking down a poster of late dictator Kim Jong Il.
Warmbier was released last June by the North Korean regime while in an unconsciousness state after spending 17 months in prison. Upon his return, doctors declared Warmbier had suffered severe brain damage. He died days later.
"I want to pay my warmest respects to the parents of Otto Warmbier, who was a great young man who really suffered," President Donald Trump said Thursday in his remarks. "And his parents have become friends of ours. They are spectacular people. And I just want to pay my respects. I actually called them the other day, and Mike [Pence] called them also."
Trump was asked by a reporter why he thinks North Korean dictator Kim Jong Un chose to release the three prisoners at this time.
"I really think he wants to do something. I think he did this because I really think he wants to do something and bring that country into the real world," Trump said. "I really believe that, Jon. And I think — I think that we're going to have a success. I think this will be a very big success."
Trump added that a visit to North Korea "could happen."