'We Thank God': US Christians Freed From North Korea Arrive Back Home, Welcomed by Trump (VIDEO)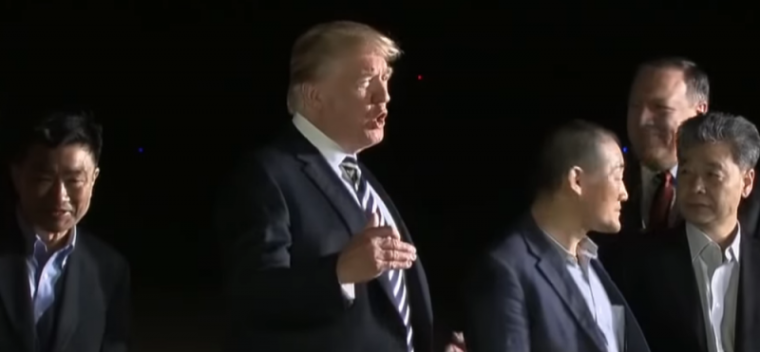 The three American Christians released this week from prison in North Korea have arrived back in the United States, touching down at Andrews Air Force Base in Maryland early Thursday, with President Donald Trump first to welcome them.
"We would like to express our deep appreciation to the United States government, President Trump, Secretary [of State Mike] Pompeo and the people of the United States for bringing us home," the former prisoners, namely Kim Dong-chul, Kim Hak-song, and Tony Kim, said in a statement.
"We thank God and all our families and friends who prayed for us and for our return," they added, according to BBC News.
Trump tweeted a 30-second video of himself, along with First Lady Melania Trump, greeting the freed men aboard the plane, who are seen shaking his hand.
"On behalf of the American people, WELCOME HOME!" the president declared.
A day earlier on Wednesday, Trump revealed that the prisoners had been released after Secretary of State Mike Pompeo met with North Korean leader Kim Jong Un earlier this week.
"They seem to be in good health," Trump tweeted at the time.
Fox News reported that after landing, a motorcade took the three Korean-American detainees to Walter Reed National Military Medical Center for physical examinations.
In brief remarks to the media, Trump said that "I really think he [Kim Jong Un] wants to do something," referring to planned talks between the two world leaders aimed at improving relations and potentially convincing the North Korean regime to permanently abandon its nuclear program.
"This is a special night for these three really great people," Trump told reporters, adding, "We're starting off on a new footing."
A translator for the Americans said that the men are "very, very happy," and that freedom is "like a dream" that has just come true.
Christian groups, such as the Family Research Council, have praised the work done under Pompeo in his first two weeks as secretary of state.
"For the prisoners, who were grabbed and detained for supposed crimes against the North Korean government, the sight of Mike Pompeo must have been emotional. U.S. doctors gave all three men the green light to travel but hinted that their captivity had taken a toll. Kim Dong Chul, who was arrested in 2015, was accused of espionage and sentenced to a hard labor camp. The image of him wiping his eyes at his sentencing is still heartbreaking," wrote on Wednesday FRC Action, the group's legislative affiliate.
"Tony Kim and Kim Hak-song were snatched by North Korean officials two weeks apart. Both of them were charged with 'hostile acts' while working at a university that's run by a Korean Christian," it added.
Open Doors USA, which lists North Korea as the worst persecutor of Christians in the world, also praised the release of the three prisoners, but warned that many more Christians remain suffering under the Kim regime.
"We must continue to call attention to the 50,000 Christians who have been detained in these interrogation centers, prison cells and work camps. And we must continue to work toward religious freedoms for the estimated 300,000 North Korean Christians who must practice their faith under threat of harassment, imprisonment and even death," urged David Curry, president and CEO of Open Doors USA.
Watch a Fox News video of Trump greeting the former prisoners here: