From 'Battleships to Bayonets,' Obama Scolds Romney Despite Even Poll Numbers
From battleships to bayonets, President Obama tried to give Mitt Romney a lesson in foreign policy in Monday night's final presidential debate at Lynn University in Boca Raton, Fla. However, just hours before the debate began, the latest Washington Post/ABC News poll found Obama's national security lead over Romney had dwindled to a dead heat at 47-46 percent.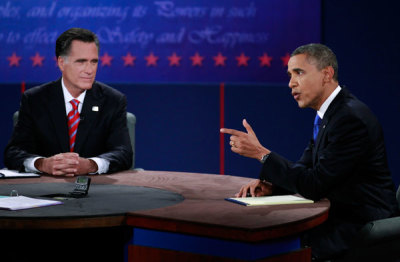 "One of the two candidates was responsible for killing Osama bin Laden and enjoys popularity overseas, while the other one bungled a European trip and has a thin résumé when it comes to international issues," wrote Sean Sullivan in Monday's Washington Post. "But based on the latest numbers, it would be difficult to tell one from the other."
Like in the second debate, Obama came out aggressive from the get-go, spending most of the night attempting to give Romney a lesson in foreign policy. It seemed somewhat of a flashback when four years ago, GOP nominee John McCain, a decorated war hero with years of foreign policy experience sought to school the new Illinois senator with no foreign policy experience.
But some pundits felt Romney accomplished his mission by not losing any ground and showing undecided voters that he is able to juggle the multiple facets of dealing with nations around the globe.
"The president accomplished what he needed to, particularly by taking the role of the aggressor that his base has wanted so desperately this debate season," wrote Rick Klein of ABC News. "But Romney also had a strong debate, in pursuing different goals than the president. He sought to come across as reasonable rather than confrontational – a candidate comfortable with the campaign's trajectory."
It was when Romney made a reference to the U.S. Navy being smaller than it was in 1917 that Obama reeled off one of his most memorable lines of the evening.
"Well, governor, we also have fewer horses and bayonets, because the nature of our military has changed," Obama said, sparking a flurry of comments on Twitter.
Some Romney surrogates like Virginia Gov. Bob McDonnell was not amused by Obama's comment. "President Obama's comment about 'horses and bayonets' was an insult to every sailor who has put his or her life on the line for our country," McDonnell tweeted.
Yet one of the more surprising lines of the night was when Obama backed away from Romney's assertion that automatic defense cuts that will be triggered in January would weaken America's military.
"First of all, the sequester is not something I proposed, it's something Congress proposed," replied an irritated Obama. "I will not happen."
The deal to impose automatic spending cuts in such critical areas as the military has put Obama at odds with GOP House leaders who wanted to cut spending while the president wanted to raise taxes. Given Obama's response to the issue, the cuts may have just been taken off the table.
After the debate, McCain made reference to Obama being a "dictator," by telling the American people what will or will not happen in Congress.
"I was astonished, I almost fell out of my chair when the president said, 'Don't worry, sequestration won't happen.' We've been begging the president to sit down with us to avoid what his own secretary of defense said would be a devastating blow to our national security. He just said, 'Don't worry, sequestration won't happen.' He's not a dictator yet," McCain told Politico.
Romney did not use the terrorist attacks on the embassy in Libya as much as some conservatives wanted to see, instead setting a more positive tone by telling voters, "I'm optimistic about our future. I'm excited about our prospects as a nation."
Romney has taken an ever slight lead in the Real Clear Politics national average of 47.6 percent to Obama's 47.2, making the race a virtual dead heat.
Presidential Debate on Foreign Policy: Barack Obama vs. Mitt Romney Oct 22, 2012