GameChanger Summit Calls on Leaders to Stand in the Gap for the Fatherless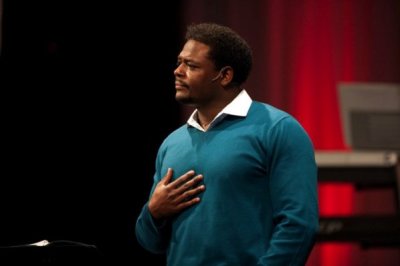 The GameChanger Coaches Leadership Summit, scheduled to take place in Dallas next week, will draw together dynamic speakers and leaders from the world of sports to encourage attendees to stand in the gap to help impact "a fatherless generation."
Influential figures like Tim Tebow, Joe Ehrmann, Gabrielle Douglas, Glenn Beck, Nick Vujicic and Pastor Derwin Gray of Transformation Church are among more than a dozen speakers lined up for the Feb. 18 event organized by the Texas High School Coaches Education Foundation (THSCEF).
Although the GameChanger summit is tailored for coaches, anyone in leadership and athletics is invited to attend.
D.W. Rutledge, executive director of the Texas High School Coaches Association and board member of the THSCEF, explained to The Christian Post that the theme of "Impacting a Fatherless Generation" was chosen because organizers feel that much of today's social issues "can be traced back to fatherless homes."
Studies show that about 40 percent of children in the U.S. have absent fathers, a condition which Rutledge called an "epidemic." Children who grow up in fatherless homes are twice as likely to be incarcerated, 63 percent of youth suicides are from fatherless homes and 71 percent of all high school dropouts are from fatherless homes, according to statistics.
"We want to help coaches coach beyond the game," said Rutledge."We're trying to get across to our coaches that sports can be used as a platform to teach beyond the game" and inspire good character.
"Coaches should stand in the gap" and help make that happen, he added.
Among the leading speakers for the summit is Derwin L. Gray, founding pastor of Transformation Church in Fort Mill, S.C. Gray as a former NFL player, knows first hand what it's like to grow up without a father as well as what kind of impact coaches can have in young people's lives.
Pastor Gray shared with The Christian Post Tuesday that he accepted the GameChanger invitation partly because of his relationship with Rutledge, who happens to be his former high school football coach.
"I cannot think of another man on earth that I have as much love and respect for than Coach Rutledge. I would not be who I am today without him [and] his influence in my life," said Gray.
In fact, the former NFL defensive back plans to share during the summit how Rutledge and other coaches poured into his life even off the field.
"At Judson High School, under Coach Rutledge, I learned the discipline, courage, hard work, and team work. I also learned how to sacrifice so others could succeed. I knew my coaches loved me," the Transformation pastor shared. "In order to accept my football scholarship to Brigham Young University, I had to take my ACT Test three times. I scored a 16, which was the lowest I could possible score to receive a football scholarship. After my senior season at Judson was complete, it was coach Mike Sullivan, my defensive back coach at Judson, who every day helped me prepare for the ACT. Today, I have a master's degree (Magna Cum Laude). My coaches at Judson were my fathers."
Gray believes the GameChanger Coaches Leadership Summit "will awaken thousands of coaches to the unique opportunity that they have to shape the future of America by shaping the lives of the young people they coach."
"Coaches have a unique role in American culture," the pastor added. "By the nature of their role, a coach has the ability to take a young person and infuse life-long principles into them. It is my prayer that coaches would have a bigger vision than just winning games, but that they would see that are able to stand in the gap for a fatherless generation and prepare kids to win the game of life. As a result of Coach Rutledge, my children are not fatherless. I've been married for nearly 21 years and I'm able (to be) a father to my children, Presley and Jeremiah."
In his upcoming book, Limitless Life: You Are Not Your Past When God Holds Your Future (Thomas Nelson, Sept. 3, 2013), Gray also writes about the importance of the GameChanger summit.
"From the depths of my being, I believe the GameChanger Coaches Leadership Summit will awaken coaches to the new reality that they are not just coach, but parent also," he said.
Gray told CP that Transformation Church, a multi-ethnic, multi-generational, mission-shaped community, tackles the issue of fatherlessness at its two S.C. campuses by implementing mentoring opportunities between children and adults.
More information about the first annual GameChanger Coaches Leadership Summit is available online (www.gamechangercoaches.com).