Gateway Church Pastor Robert Morris: 'I'm Alive … Thank You for Praying for Me'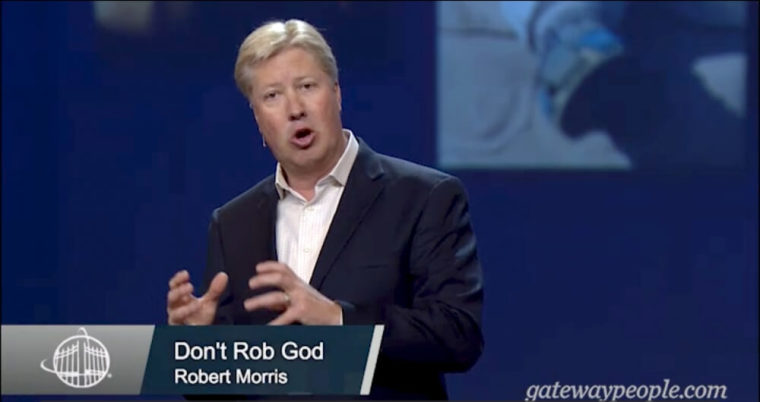 Robert Morris, the founding pastor of the nearly 40,000-member Gateway Church in Southlake, Texas, who is battling an illness, says in a Facebook live video that he's alive and recovering thanks to the prayers of thousands of believers.
"I'm doing better. I'm getting stronger," the 56-year-old Morris, who has been critically ill since early April, says in the video posted on Sunday. 
"It's just a slow process and I appreciate your continued prayers," continues Morris, who also serves as chancellor of The King's University and is a best-selling author of 14 books. "I just wanted to let you know where I am. I'm alive and I'm headed in the right direction and I am recovering. So thank you, thank you, thank you for praying for me."
Gateway Church spokesman Lawrence Swicegood earlier said that Pastor Morris had to undergo several emergency surgeries to stem internal bleeding following a hernia operation on April 2. He was most recently treated for pneumonia.
Gateway Church staff reported that the pastor began experiencing pressure in his abdomen a week after undergoing a scheduled surgery to repair a double hernia. He was subsequently airlifted to the hospital where doctors discovered internal bleeding and performed emergency surgery.
The pastor's wife explained that as her husband waited for air transportation to the hospital, he asked her to send out an appeal for prayer on social media. So earlier this month, more than 250,000 people in 45 countries came together in prayer for his healing.
"On Sunday when we were waiting for the helicopter to arrive [Morris], realizing he was in serious trouble, asked me to post on social media because he believes in the power of prayer," his wife, Debbie Morris, said at the time. "To give some context the paramedics had just told us they could not find a pulse and his blood pressure was too low to read. We were hours from a major hospital. We knew he was steps from Heaven's door."
Since Morris founded Gateway Church in 2000, active members have increased to more than 39,000, the church says. His daily and weekly television program is aired in more than 190 countries while his radio program, "Worship & the Word with Pastor Robert," is featured on radio stations across the country.