Gay Christian Grandson of Hamas Founder Says He Fled to America to Escape Certain Death in West Bank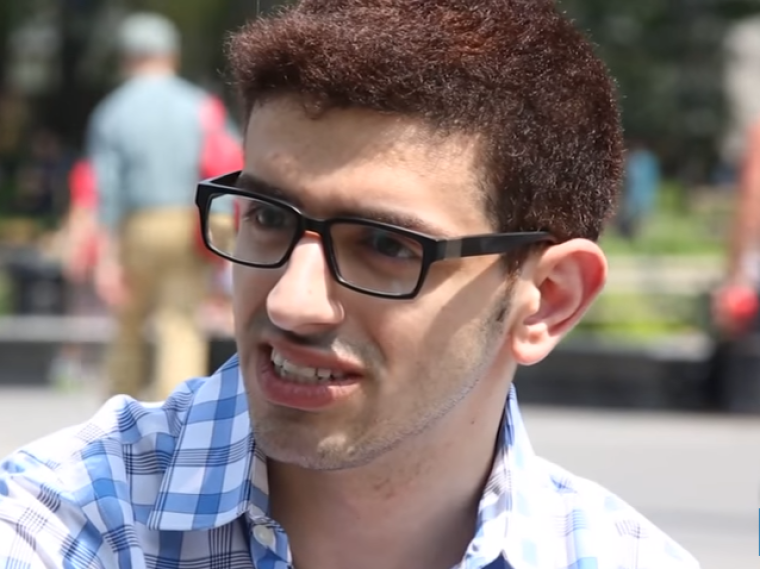 The grandson of a founding member of the Palestinian Sunni-Islamic terror group Hamas says he's fleeing "certain death" at the hands of his family in the West Bank after revealing that he's a gay Christian.
He's now seeking asylum in the United States, searching for what he calls his version of the American dream, and hopes to one day find a husband to settle down with, along with two children.
Speaking in an interview with CNN at the front of the historic Stonewall Inn, a gay bar associated with the birth of the gay rights movement in New York City, the grandson, who goes by the name John Calvin to protect his identity, says he has been "fantasizing" about his version of the American dream ever since a judge granted him deferred removal from the U.S. under the U.N. convention against torture.
"This was the first place I came to in New York, it was liberating," he told a CNN reporter in the interview at the bar.
"I've actually dreamed about this most of my life. The freedom, the liberty, the basic human tolerance. It's like gay Bethlehem," he continued.
"I'm actually already fantasizing about my version," he said. "I finish my school. I go to law school, husband and two kids, and I guess happily ever after? If such thing is possible. I think it is. Nothing is impossible without (sic) God."
Calvin further explained that this is the first time he has ever felt safe from Hamas since he ran away from the West Bank at 14 and converted to Christianity, which considers homosexuality as a sin.
Hamas is a Palestinian militant movement that also serves as one of the territories' two major political parties, according to the Council on Foreign Relations.
It is a nationalist-Islamist spinoff of Egypt's Muslim Brotherhood founded in 1987, during the first intifada, and later emerged at the forefront of armed resistance to Israel. Both the U.S. and the European Union consider the group a terrorist organization.
Israeli authorities cited by CNN say Calvin's uncles are linked to several suicide bombings. According to Calvin, he ran away from his home when he discovered that his father was planning an honor killing.
He first sought refugee status in Edmonton, Canada, where he came out as gay, but the Canadian government rejected his application because he was tied to Hamas as a teenager. He was about to be deported when he fled to the U.S.
An immigration judge dismissed Calvin's application for asylum in the U.S., but his father's admission to CNN that he could be subject to harm if he returns to the West Bank was instrumental in convincing a judge to grant him deferred removal under the U.N. convention.
"He does believe, evidently, that I will be under threat of torture and death, and thus I should be granted protection under the convention against torture," Calvin said.
Eli Echols, an immigration attorney with Socheat Chea, told CNN "The judge has found it would be against our law to deport him, even though he's not eligible for any form of discretionary relief."
Calvin says he shared his story to draw attention to the plight of refugees seeking haven in the U.S.
"You can't ignore your moral responsibility toward refugees," he said.
"At the same time, we can't just open a floodgate to anyone who wants to come. The vetting system [is] working well at the moment," he asserted.