Gaza Protests, Killings: 6 Things to Know About Israel-Palestine
1. 13 Children Dead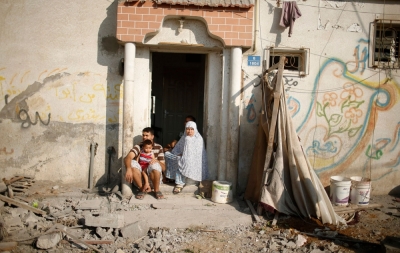 At least 13 children have been killed (six of them on Monday) in Gaza since the violent protests began several weeks ago. 
This is according to some sources, such as the Palestinian Ministry of Health in Gaza, though Israel disputes these numbers, and disputes who is to blame for these tragic deaths.
Palestinian mourners vowed revenge for the dead children, Reuters reported on Tuesday, wrapping the bodies of some, such as 8-month-old Leila al-Ghandour, in their national flag. 
"Let her stay with me, it is too early for her to go," cried the child's mother, revealing that the girl died from inhaling tear gas.
Israeli Prime Minister Benjamin Netanyahu told CBS News in an interview that protesters are being paid to try and cross the border and are using children as human shields by bringing them to hostile areas.
"They're pushing civilians, women, children into the line of fire with the view of getting casualties," Netanyahu argued. "We try to minimize casualties. They're trying to incur casualties in order to put pressure on Israel, which is horrible."
Asked about the Palestinian casualties, including at least 60 on Monday, he stated:
"You try all sorts of means. You try non-lethal means and they don't work. So you're left with bad choices. It's a bad deal. You know, you try and you go for below the knee and sometimes it doesn't work. And unfortunately, these things are avoidable. If Hamas had not pushed them there, then nothing would happen."
International charity Save the Children said that it was "horrified" by news of children been killed, and pointed to Palestinian reports that another 220 youngsters have been injured.
"The killing of children cannot be justified. We urgently call on all parties to take active steps to ensure children are not hurt and to protect children in accordance with the Geneva conventions, relevant international humanitarian law and international human rights law," the group urged in a statement on Wednesday. 
"We also call on all parties to show restraint and urge all protests to remain peaceful, while calling on all sides to tackle the long-term causes of this conflict and promote dignity and security for both Israelis and Palestinians," it added.